Columnists
Let's Reminisce: The 1918 flu epidemic in Sherman
Oct 9, 2018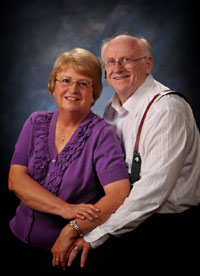 This is the second of two columns examining the history of the 1918 Influenza Pandemic in relation to its impact in Sherman. In a period of less than nine months the Pandemic killed an estimated 675,000 victims in the United States, and worldwide deaths may have reached 50 million; but what effects did it have in Sherman? Remember we discussed the fact that railroads were instrumental in spreading the virus across the country and many deaths attributed to pneumonia were in fact a complication of influenza.

Instead of trying to estimate how many flu cases occurred in Sherman, let's consider some case studies of individuals and families. A review of newspaper obituaries and funeral home ledgers shows that Spanish Influenza swept through the population of Sherman without discrimination by age, sex, class, or profession. It infected prominent citizens as well as common laborers, students in colleges as well as public schools, men and women, boys and girls.

Among the leaders of Sherman whose deaths can be attributed to the flu or pneumonia were Sheriff Tom W. Roberts, aged 50, who passed away on Oct. 9. The obituary of Dr. C. S. Wilkirson, 40, a physician who also died on Oct. 9, attributed his death to pneumonia, resulting from the Spanish influenza, and to overwork in his efforts to fight the disease. The fire department was devastated by the death of Daniel Orr, 38, a driver based at the Central Fire Station, who died Oct. 10.

The Frisco Railroad suffered numerous losses among employees and their families, beginning with Jay Senner, 26, the chief clerk at the local railway shops, whose obituary appeared Oct. 5, and more than a dozen deaths among railroad workers and families continued into December.

Among the downtown business owners, Jim B. Wilson, 39, owner of the Gem and Jewel Theaters, died on Oct. 11. Restaurant managers Rolfe G. Bowman, 39, of the M. E. Munsell Restaurant, died on Oct. 18 as well as John W. McGinness, 45, who managed a restaurant at 224 West Houston. Malone Shoe Company salesman Paul Pitt, 29, died on Oct. 8. Sherman barber, Maclain Price, 30, died suddenly on Oct. 20 of influenza. Pharmacist Lyle McDonald, 33, of Mitchell & McDonald druggists, died of influenza and pneumonia on Nov. 20.

After Sherman physicians had estimated that 1,000 residents were ill with influenza on Oct. 7, the city was shut down. All public gatherings were banned and schools closed until October 25. The reports of flu were merely anecdotal for the next week. The number of new cases was not tallied until Oct. 16, when reports from physicians began to be collected by the Health Committee. During the 24 hours ending at noon on Wednesday Oct. 16, there were 98 new cases. Slowly the numbers began to decline.

Although this worldwide epidemic has been called the "forgotten pandemic," in Sherman there were families who could not forget its impact. The Waters family history was forever changed by events in October 1918. Mamie Waters Patterson, 27, died after a three-day bout with the flu and pneumonia on Oct. 12. Then a week later, railroad worker Ben Waters, 30, Mamie's brother, and Thelma, a child of 6, Mamie's daughter, both died. Three days later, on Oct. 22, Sherrell Waters, 25, brother to Mamie and Ben died. The brothers, Ben and Sherrell, were buried next to each other in the Enterprise cemetery. Mamie and her child were buried beside each other in West Hill cemetery.

Funeral records provide another way to gauge the impact on Sherman of this pandemic. Examination of the ledger book for Dannel Funeral Home in the month of October 1918, shows more than four times as many funerals as there were in the same month in 1917 and 1919. The ledger book from another mortuary, Haynes and Scott, tells a similar story.

Shifting to a national perspective, in the United States as a whole in 1918-19, the relatively high mortality rates, especially among younger adults aged 20-40, that resulted from the epidemic, caused the average death age of 51 in 1917 to plummet to 39 in 1918 and then return to 51 in 1919.

The 1918 influenza epidemic may have been forgotten by historians, but when you consider the number of families in Sherman that were disrupted by the loss of a parent, grandparent, spouse, or child, the ill effects must have been felt for decades.

Jerry Lincecum and Peggy Redshaw are retired professors from Austin College who now teach out-of-school adults to write their autobiographies and family histories. They welcome your reminiscences: jlincecum@me.com.