Local News
Fannin County Courthouse project nearing restoration phase
Aug 2, 2018
Fannin County, Texas -- With only a few minor exceptions, it was a successful final walkthrough of the selective demolition phase of the Fannin County Courthouse on Tuesday, July 31 and all parties are hopeful that restoration specialists can begin work in November.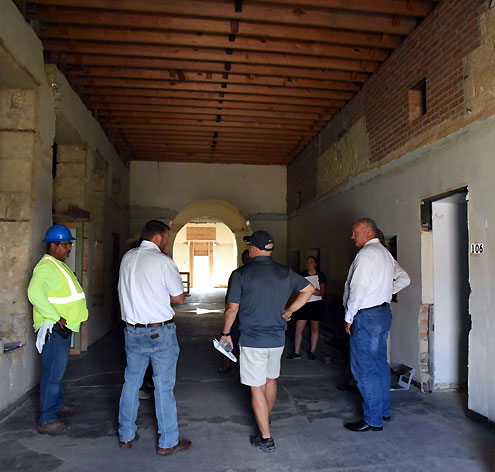 The wooden ceiling joists in this hall weren't part of the original building and will be replaced by a metal ceiling similar to the ceiling shown at the bottom of this article.
That was the consensus when Fannin County officials toured the 1888 courthouse with management from Phoenix 1 Restoration and Construction, Ltd; David Chase, architect and principal of Architexas; and James Malanaphy, AIA, a historical architect with Texas Historical Commission's Courthouse Preservation Program.
A no-cost change order calling for the modification of four steel lentils on opening in the basement, along with a large-scale mock-up of mastic removal will likely go before Fannin County Commissioners Court at its next regular meeting August 7, 2018. The mastic is the black waterproofing on the courthouse exterior.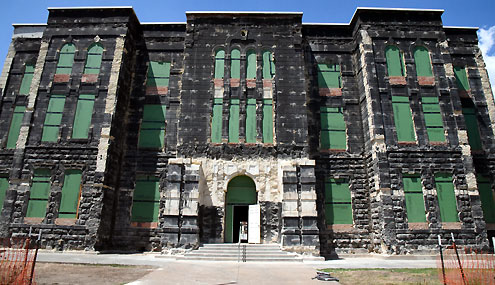 All indications are this $17.5 million courthouse restoration project is slightly under budget and slightly ahead of schedule for a November 2020 completion.
The next major step will be the bidding process for restoration work, a phase that will take approximately 18-24 months. If bids are let in 30 days, restoration crews could be on site by November.
Mr. Chase, the chief architect of the project, shared some of the details of what the historic courthouse will look like once it has been restored. The interior walls will be a light blue and the roof of the towering limestone structure will be colonial red.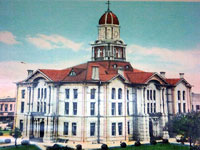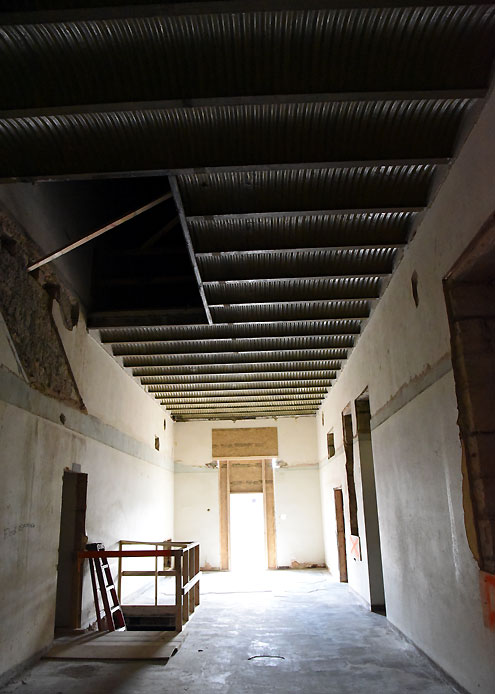 This room has the original metal ceiling.