Local News
9th Annual Bonnie and Clyde Days to be held Oct. 13 in Pilot Point
Oct 13, 2018
Pilot Point, Texas -- Pilot Point's Main Street Program today announced that its 9th Annual Bonnie and Clyde Days festival will be held Saturday, October 13, 2018 on the historic town square. The festival starts at 10:00 a.m. and runs through 5:00 p.m. Country music recording artist Jack Ingram headlines the 6:00 p.m. concert, held at the nearby Western Sons Distillery.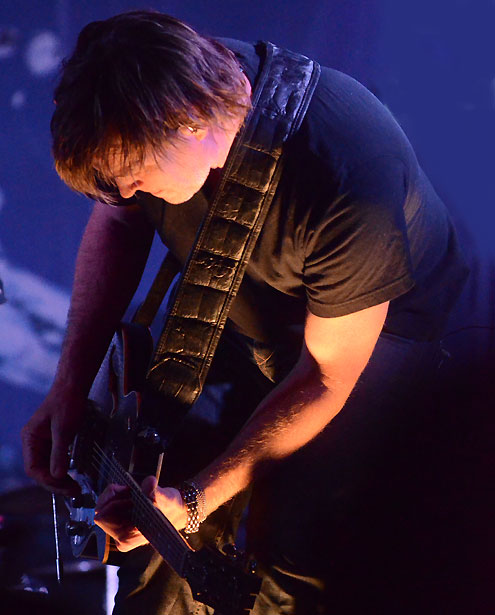 Jack Ingram - photo by Allen Rich
Ingram, named "Best New Male Vocalist of the Year" in 2008 by the Academy of Country Music, has had a stellar career with his smash country hit "Wherever You Are" (number one on the Billboard Country chart) and multiple follow-up hits, including "Love You," "This Is It," "Lips of An Angel," "Barefoot and Crazy" and "Measure of a Man."
Pilot Point, Texas is 11 miles north of Denton on Hwy. 377.
The annual festival is held to commemorate and reenact the 1967 filming of the "bank robbery scene" in the Warner Brothers movie "Bonnie and Clyde" (starring Faye Dunaway and Warren Beatty) at the historic bank building on the town square. In addition to the movie filming, Pilot Point was a known hangout of the REAL Bonnie and Clyde and the Barrow Gang. Local legend has it that a family member lived in the area and offered the gang a safe haven.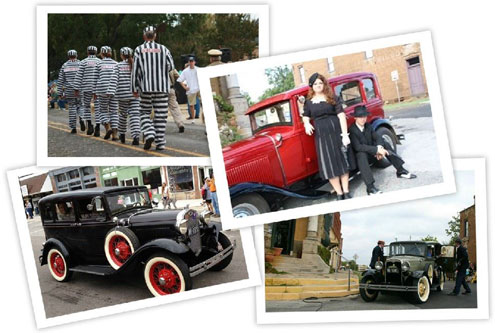 The featured event – the annual "Bank Robbery Scene Reenactment" – complete with gangsters and police squad cars – occurs at high noon and again at 3:00 p.m.
The popular Annual Soap Box Challenge takes place at 1:00 p.m. on the town square. Qualifying rounds are from 10:00 a.m. to 12:30 p.m. Challenge drivers must be between the ages of 6-12. Trophies are awarded for 1st, 2nd, and 3rd Place winners. The event is open to all businesses, clubs, families, and individuals. FREE soap box car rides are available after the awards ceremony for kids ages 6-12. For more information, or to register, visit the festival's website, below.
During the all-day festival, Pilot Point becomes a piece of living history with 1930's-era family fun! Festivalgoers step back in time with a Model A and Classic Car Show. Bonnie & Clyde Days also offers street and food vendors, live musical entertainment throughout the day, and a FREE Kids Zone featuring children's activities.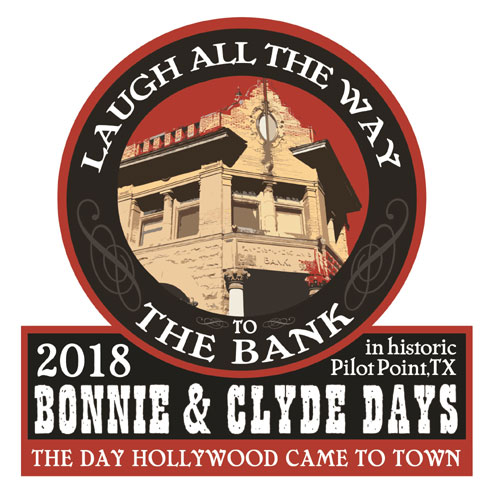 SCHEDULE OF ACTIVITIES:
LIVE DEMONSTRATIONS, FOOD VENDORS, MUSIC, EXHIBITS AND CAR SHOW - all day
FREE KID ZONE: features free family-friendly fun – all day
REENACTMENT: Two bank robbery movie-scene reenactments at 12 noon and again at 3:00 p.m. feature hired gunmen re-enactors, local actors and drama students
CABINET MAKERS' SOAP BOX CHALLENGE: Race begins at 1:00 p.m. Awards presentation is at 3:15 p.m.
EVENING CONCERT AT WESTERN SONS DISTILLERY: Jack Ingram takes the stage at 6:00 p.m. Stage location: 217 W. Division St., walking distance of town square. Tickets are $15 at www.westernsondistillery.com
For more information, sponsorship and vendor opportunities, visit the event website at BonnieAndClydeDays.org.