Farm and Ranch
Pest numbers climbing in South Plains, Panhandle summer crops
Aug 7, 2018
AMARILLO – Infestations of damaging pests are increasing on corn, sorghum and cotton crops in the South Plains and Panhandle, according to a Texas A&M AgriLife Extension Service entomologist.
Producers are monitoring crops, but Dr. Ed Bynum, AgriLife Extension entomologist, Amarillo, said they should remain vigilant in scouting and be prepared to act with pesticide treatments if infestations reach damage thresholds to avoid yield losses.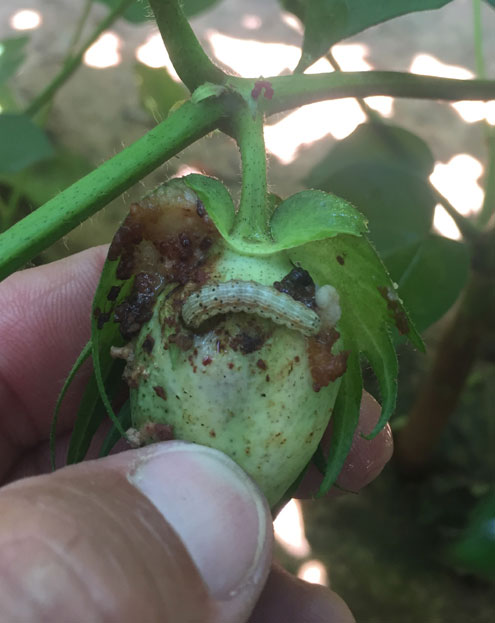 Bollworm in cotton boll. (Texas A&M AgriLife Extension Service courtesy Dr. David Kerns)
Bynum said damages vary depending on the pest and crop, but that producers have seen increased numbers of spider mites, bollworms and sugarcane aphids over the last few weeks.
Spider mite infestations are primarily in corn, but have been noted in sorghum as well, Bynum said.
"Corn is in the ear development growth stages," he said. "Feeding by spider mites kill individual plant cells, and the accumulation of feeding will kill leaves. When you have enough leaves killed during ear and grain development, it will ultimately reduce yields."
Bynum said producers were scouting fields on a regular basis and treating based on pest numbers. Some fields have not needed to be treated because beneficial predator populations are present.
The primary mite predators that help control spider mite populations are six-spotted thrips, predatory mites, minute pirate bugs and "spider mite destroyer beetles" – small lady beetles or stethrou, which occur naturally in fields and can keep spider mite populations in check, he said.
"Natural infestations of predators will build as spider mite populations increase," he said. "Good populations of beneficials can mean producers may not have to spray their fields."
Bynum said producers were beginning to see cotton bollworms as the crop enters the flowering period and boll development stage. Bollworms feed on bolls and small squares.
"We've seen an increase in moth activity and egg lays," Bynum said. "Producers are watching closely because we are starting to see some damaging infestations in a few fields."
Bynum said second – Bollgard II, WideStrike and TwinLink – and third generation Bt cotton varieties with the Vip3A trait have held up against pests on the High Plains. However, farmers still need to monitor their Bt cotton fields for damage because in other cotton-growing areas there have been issues with bollworms in the second generation Bt cotton varieties.
Sugarcane aphid numbers were beginning to increase as well, Bynum said.
"Producers should be monitoring for sugarcane aphids because they are in the area, and their numbers can build rapidly," he said. "They've arrived later this year in the South Plains. Producers have done a good job managing them the last few years, but sugarcane aphids can do damage to an individual's field in a hurry."
Bynum said tolerant sorghum varieties have helped delay sugarcane aphid build up, but damaging populations can still build to the point producers should make timely pesticide applications and use spray rates to get good plant coverage.