Entertainment
Fannin County hero - Malinda Allison
Jan 2, 2019
Fannin County, Texas -- When Malinda Allison was asked what she does for fun, she quickly answered, "I volunteer!" With a bachelor's degree in education and a master's degree in library science from the University of Texas in Austin, Malinda enjoyed an impressive career. Settling in Honey Grove upon retirement wasn't on her radar, but it became a reality and she couldn't be happier.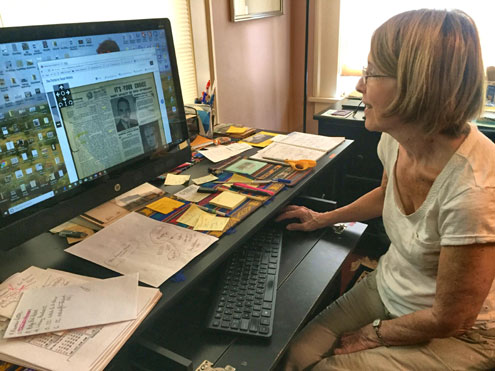 Malinda Allison at her computer.
After receiving her master's degree, Malinda worked as a librarian in the State Capitol in Austin, Texas. From there, she spent three years working in a law library in San Diego, California. After that, it was back to Austin to the Capitol library before heading to Berkeley, California, and working in San Francisco as a law librarian. Her impressive travel and career weren't over, though, as she moved to Manhattan, New York, where she worked as a paralegal.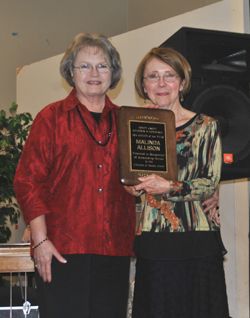 (L-R) Barbara Caffee presents Malinda with Citizen of the Year plaque at a Honey Grove Chamber of Commerce Banquet.

With Honey Grove being the home of her grandparents, Malinda enjoyed her visits to the Sweetest Town in Texas, and she decided it was worth a look-see. Being a "glass-half-full person," she saw Honey Grove as a town of many opportunities. She said, "I saw possibilities in Honey Grove, and I felt I could make a contribution." Malinda wanted to get her arms around the community. And she did.

What Malinda Allison found in Honey Grove was an amazing group of women who are educated, well read, and quite interesting. When asked if she could call on a group of local ladies to come to her aid in an instant, she replied, "Absolutely!"

Currently, Malinda is vice-president of the Honey Grove Preservation League and helped to build its website, www.honeygrovepreservation.org. Her librarian and paralegal skills have been assets for researching and organizing data. She is in her element and readily admits: "I'm a little pushy."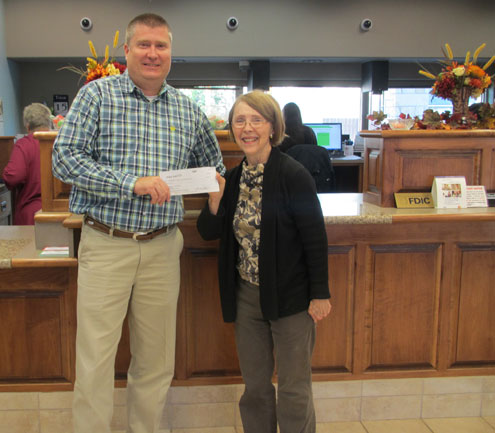 Malinda receives a donation for St. Mark's from Fannin Bank.
Oakwood Cemetery in Honey Grove is a pet project of Malinda's as she serves as historian. The cohesiveness of the cemetery board ensures a forward-moving future. Together with other dedicated individuals, Malinda has worked tirelessly so that all the cemeteries in Fannin County are recorded on www.txfannin.org.
Serving on the Fannin County Historical Commission, Allison is currently the vice-president of the Fannin County Museum in Bonham and is a member of Bonham Rotary Club. She is proud of the two websites: www.fannincountymuseum.org and www.fannincountyhistory.org. Also, she is a director of the Friends of the Honey Grove Library.
A regular attendee at the Honey Grove Book Club, which meets at the Honey Grove Library, Malinda serves on the steering committee for the library's capital campaign. Plans are underway to raise $600,000 to update the 100-year-old building, which sits on the corner of the Honey Grove square. The expansive upstairs will eventually be utilized again and an elevator will be installed for easy access.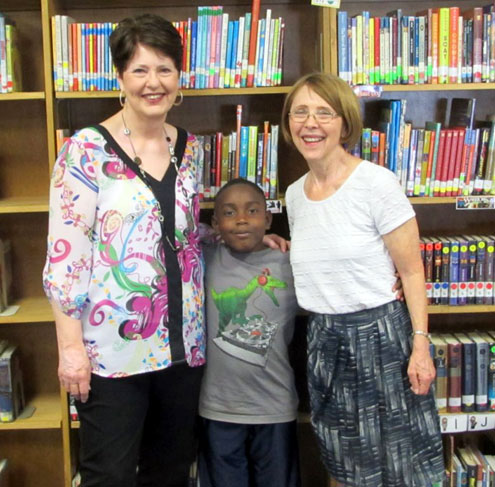 Reading program: (L-R) Mary Vincent, first grader, Malinda Allison
Malinda Allison is an active member of United Methodist Women (UMW) of McKenzie Methodist Church of Honey Grove, and she has volunteered as a reading tutor in Honey Grove Elementary School. Weekly, Malinda submits current event articles from in and around Honey Grove to the Fannin County Leader, and she occasionally writes for North Texas e-News.
When asked about the online newspapers, Malinda's smile broadens. Getting Fannin County newspapers online is a work in progress, and it's a project of which she is very proud. It takes money for the University of North Texas Portal to Texas History, a digital repository, to scan old editions and make them accessible online. So, grant money becomes essential to the success of this effort.
Interestingly, The Bonham Herald once had 100 correspondents in the rural portions of Fannin County who gathered information and submitted items of interest to the Fannin County rural newspaper. No news was insignificant, even if it was simply "Maude Jenkins fell on the ice and suffered contusions and lacerations" or "Old Man Vaughn's milk cow won't feed her new calf, and Vaughn needs to borrow a bottle."
St. Mark's Episcopal Church in Honey Grove was organized in 1876 and served the community for many years. After sitting vacant for a long time, the Hall-Voyer Foundation of Honey Grove acquired the building in 1993 and has restored it to its original grandeur. Malinda Allison has been instrumental in organizing events in the historic structure, and, once again, it stands proudly and illuminates a rich legacy.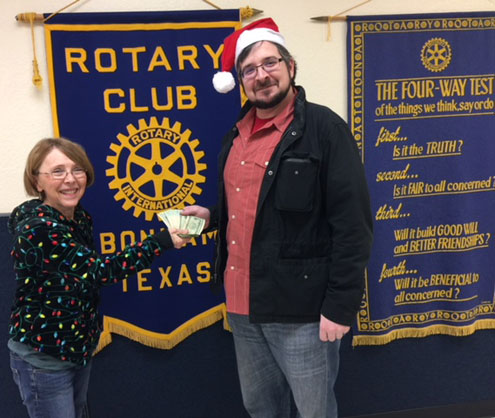 Bonham Rotary Club presents Malinda with donation to St. Mark's.
Malinda couldn't resist getting involved in the restoration of the Fannin County Courthouse. She has busied herself in scanning the many documents which were placed in the time capsule when the building was modernized in 1965. Soon, it will be returned to its original "complexion."
The enviable traits of being upbeat and positive are Malinda Allison's ready tools. Honey Grove may be the smallest community in which Malinda has lived, but she loves its richness and sees its potential. And she has embraced its people, its progress, and its possibilities. Honey Grove embraced Malinda by naming her Citizen of the Year in 2015.
Malinda Allison is a shining star in Honey Grove, and Fannin County will be proud of its Fannin County hero for years to come.