Local News
Eric Swenson benefit August 18
Aug 18, 2018
Saturday, August 18, 2018, VFW Post 4852, 1610 Mitchell Dr., Bonham, TX 75418, 903-583-5733, time 4:00 p.m. - 8:30 p.m.
Bonham -- Eric Swenson, a hometown cowboy, has been fighting colon cancer for the last 2 years. Eric had surgery to remove his tumor and received 6 months of chemo treatment. Less than 90 days after treatment, Eric returned for another surgery and is now receiving another 6 months of chemo.
Here is a little background on Eric's life and the person we all know and love! He is 44 years old, an awesome father to son Marvin. He is a 3-time qualifier to the National Finals Rodeo in Las Vegas. Eric was a winner and finalist to most rodeos across the US and Canada, including the Calgary Stampede in Alberta, Canada, Cheyenne Frontier Days in Wyoming and the National Western Stock Show in Denver, Colorado. Eric has always been a determined and strong-willed person. Eric doesn't know the meaning of "Giving Up"... This includes his battle he's fighting now.
He did return to work soon after his first surgery and kept working through his chemo treatments. He has now been unable to work with his second round of chemo.
Eric is loved by everyone that knows him, his fellow cowboy buddies, his family, his friends and most of all his son, Marvin. We are humbled by your consideration and hopeful for your support of this benefit. This is "ONE RIDE" we can all be on with Eric!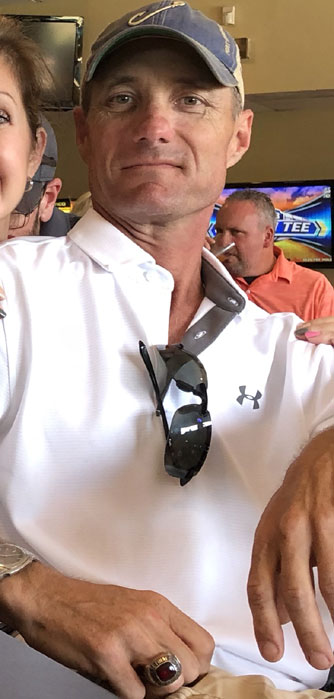 Benefit includes: BBQ Slice Beef/Sausage, Pulled Pork w/Potato Salad, Beans, Bread, Drink and Desserts.
Silent Auction--Live Auction
Music by--Chase Sanford
Donations can be picked up at your convenience or dropped off at these locations.
1.) Daphne Gammons, State Farm, 2110 N. Center St. Bonham, TX
2.) Linda Sanford, 10225 N. Hwy. 78, Ravenna, TX
3.) Lil's Chuckwagon N. Hwy. 78, Ravenna, TX
Please contact these people with any questions, Daphne Gammons cell 903-640-6046 home 903-583-9436 and Linda Sanford cell 903-267-1506 and home 903-640-2802.