Local News
Willow Wild sets $15,000 goal for Labor Day fundraiser
Aug 31, 2018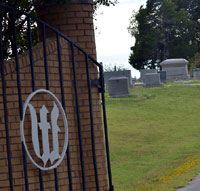 Fannin County, Texas -- The Willow Wild Cemetery Association launched its annual "Pay the Mower" fundraising campaign this week with a goal to raise $15,000 by Labor Day. Keeping the cemetery freshly mowed during the spring and summer months is the largest single item on Willow Wild's annual budget.
Unlike many other cemeteries, Willow Wild does not at this time have a trust fund or investments to cover routine costs, and many of the descendants of the people buried there are long since gone. Thus, it relies on the community for upkeep and maintenance.
Your tax deductible contributions to the Association are much needed and appreciated. Donations may be mailed to Willow Wild Cemetery Association, P. O. Box 159, Bonham, Texas 75418. Or donate digitally at
www.WillowWild.org
.