Obituaries
W. Sybil Hutcheson
Aug 8, 2018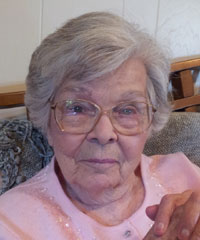 Celeste, Texas -- A funeral service for W. Sybil Hutcheson, 94, of Lubbock, (formerly of Celeste) is scheduled for 10:30 a.m. Saturday, August 11, 2018 at the First Baptist Church of Celeste. Bro. James Ralson and Bro. Jim Sherwin will officiate. Burial will be in the Hogeye/Celeste Cemetery. Family visitation will be Friday August 10, 2018 from 6:00 p.m. until 8:00 p.m. at Turrentine-Jackson-Morrow Funeral Chapel in Leonard.

Sybil was born May 22, 1924 near Hickory Creek, Texas. Her parents were Erman Lee and Eula Lee Duncan Alexander. She married Elliot Myles "Jack" Hutcheson March 12, 1963 in Celeste. She was a member of the Monterey Church of Christ in Lubbock and she was retired from Raytheon of Greenville. She passed away Tuesday August 7, 2018 at Carillon Assisted Living of Lubbock.

Sybil is survived by her daughters and sons-in-law: Wanda and Harry Glenn Brewer of Fort Worth, Linda and Jim Glen Brown of Lubbock, Janis Bailey of Fort Lauderdale, Florida, and Judy Justus and J.D. Shoop of Alto, New Mexico. She is also survived by 25 grandchildren, 44 great-grandchildren and 12 great-great grandchildren.

In addition to her parents and her husband, Sybil was preceded in death by her sisters and brothers: Ouida Compton, Melba Compton, Pebble Renfron, Gaston Alexander, Bemis Alexander, Mendal Alexander and Nat Alexander.

Turrentine-Jackson-Morrow Funeral Home of Leonard is in charge of arrangements. An online registry may be signed at www.tjmfuneral.com.