Front Page
Zoning process for new lake coming to an end
Aug 10, 2018
Fannin County, Texas -- The Fannin County Lake Zoning Commission met in the Bonham City Hall Council Chamber on Thursday, August 9, 2018, for its next-to-last public meeting.
The purpose of the meeting was the following:
1) Review and Discuss the Lake Zoning Regulations
2) Review Future Land Use Plan Amendment
3) Public Hearing
4) Lake Zoning Commission Discusses Possible Amendments to the Drafts
5) Lake Zoning Commission to Consider Recommending Amendments to the Comprehensive Planís Future Land Use Plan and Recommending the Zoning Regulations Text and Map for Adoption by the Commissioners Court
Daniel Harrison of Freese and Nichols presented highlights of the lake zoning regulations as well as the recent changes and map of possible future land uses. Then came time for the public hearing. There were many questions and comments by the audience.
(L-R) Bobby McCraw, zoning commission; Gary Fernandes, zoning commission; Fannin County Judge Spanky Carter, zoning commission chairman; Daniel Harrison, Freese and Nichols; Dustin Knight, zoning commission - photo by Jarrett Tucker
Finally, the Lake Zoning Commission shared their concerns. One was regarding the lack of a provision guaranteeing residents the right to have boat docks and access to the water. Other topics discussed included: zoning violation enforcement, concrete driveways, home-based business signs, and provisions for the lease/rent of guest houses. This discussion also included whether North Texas Municipal Water District should be except from any and all proposed zoning regulations.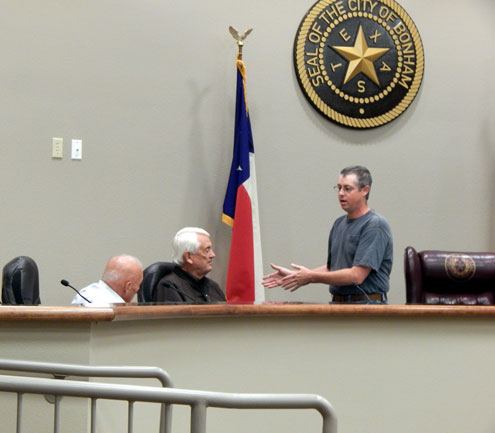 Zoning commission members (L-R) Bobby McCraw, Gary Fernandes and Dustin Knight discuss issues. photo by Jarrett Tucker
If you have concerns, questions, or comments, the final public meeting of the Lake Zoning Commission is scheduled for September 19 at 3:30 p.m. in the Bonham City Hall Council Chamber.
There will be an update for Fannin County Commissionerís Court on September 25 at 9:00 a.m. with the consideration of adoption of the zoning regulations.
Notices to property owners that will be affected by the zoning regulations, which is 5200 feet from the pool level of 534 feet of elevation, will be sent out on September 18.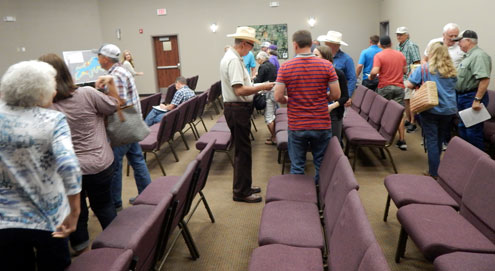 All of the proposed zoning regulations can be found on the following link. Proposed regulation changes from this past meeting should be posted by Friday, August 17. https://clients.freese.com/fannincounty/