Lifestyles
Heritage Farmstead Museum to present yoga at the farm event on September 20
Sep 18, 2018
Free gathering part of non-profit's participation in
North Texas Giving Day
Plano, Texas -- On Thursday, September 20, the Heritage Farmstead Museum, together with the Junior League of Collin County, is co-hosting Plano's new, signature North Texas Giving Day event, Farmstead Yoga. The event will feature a free yoga session including farm animals (goat yoga plus!), food from Hub Streat, healthy beverages, wagon rides, fun prizes and giveaways from 6:00 p.m. to 8:00 p.m. as part of the Farmstead's participation in North Texas Giving Day, a one-day, online giving event that benefits thousands of North Texas area non-profits.
"We invite the community to feel the calm breeze, listen to the sounds of the chickens, goats, sheep, donkey and pigs as well as the hum of the tractor passing by which will bring a smile, a sense of well-being and inner peace. We believe it should be an experience that leaves all of our friends rejuvenated, relaxed and reminded that we are all called together for a deeper purpose, "said Heritage Farmstead Museum Director of Marketing and Development Katherine Strobel.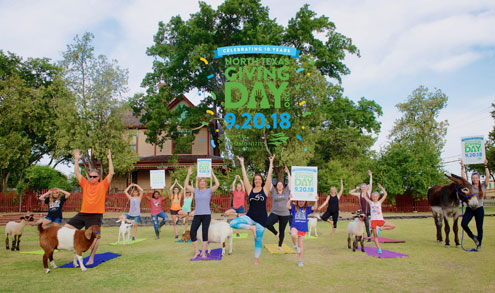 Toni Farris, past owner of Yoga Tree Studio in Plano, will offer a yoga lesson in the meadow at the Farmstead from 6:30 p.m. to 7:30 p.m. Guests are encouraged to bring their own yoga mats. Free swag bags from Altheta Sports and Fitness will be available for the first 300 guests at the event.
"We hope this event will elevate awareness of North Texas Giving Day across Collin County," added Strobel. "As part of this event, Heritage Farmstead Museum and Junior League are co-hosting Plano's North Texas Giving Day Donation Station featuring information booths from a variety of area non-profits. Booths will be located across our 4 acre historic site."
In addition to a yoga class, vendors and North Texas Giving Day donation station opportunities, guests will enjoy music and have the opportunity to take photos with the Farmstead's chickens, sheep, donkey and pigs.
"Practicing yoga on a historic farm site with animals present is a
back-to-basics move that helps you find something deeper," said Strobel. "And, I've heard nature is one the deepest experiences we can have…consider the loveable farm animals a bonus!"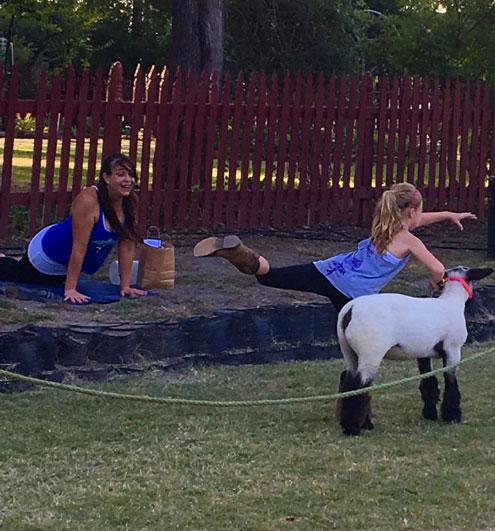 Last year, North Texas Giving Day brought together more than 2,700 organizations and raised $39 million to area non-profits. This year, the tenth annual North Texas Giving Day aims to raise the giving day bar once again to benefit more North Texas nonprofits.
To learn more about North Texas Giving Day, please visit
www.northtexasgivingday.org
Heritage Farmstead Museum is located at 1900 W. 15th Street in Plano.
For more information, please call 972.881.0140, email
kstrobel@heritagefarmstead.org or visit www.heritagefarmstead.org
About The Heritage Farmstead Museum
The Heritage Farmstead Museum, a four-acre historic site consisting of a restored, 14-room 1891 Victorian farmhouse with its original outbuildings, interprets rural life on the North Texas prairie between 1890 and 1925. The museum provides tours, field trips and programs for 35,000 visitors each year. For more information, call 972.881.0140 or visit www.heritagefarmstead.org.