Local News
Denison Ministerial Alliance Pancake Breakfast Oct. 6
Oct 6, 2018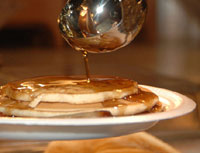 Denison -- The Denison Ministerial Alliance Pancake Breakfast is set for Saturday, October 6, 2018 in Heritage Park.

Breakfast includes pancakes, sausage, coffee and orange juice. Cost is $8 per person. Proceeds support Denison Helping Hands, Grayson County Shelter and Denison Ministerial Alliance Prescription Drug assistance program.

Breakfast will be served from 7:00 a.m. to 11:00 a.m. at Heritage Park in the 300 block of West Main Street in downtown Denison, Texas.