Obituaries
William 'Bill' Cupit
Sep 8, 2018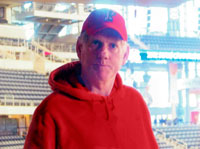 Van Alstyne, Texas -- William Cupit, known by Bill to most and by Willy to a few, entered into eternal salvation as a result of pancreatic cancer on September 6th, 2018 at home surrounded by his loved ones.

William was born on May 20, 1955 in Van Alstyne to Grover and Thomasine Cupit.

William's mother suffered from prolonged labor while giving birth to him and as a result suffered from anoxia causing him to be born with Cerebral Palsy (CP). CP was a part of William yet it did not define him. William tended to avoid those that tried to "label" him and cherished those that didn't.

As a youngster growing up he was given the same responsibilities as his brothers and sisters and was extremely grateful when he secured his first paying job working in a pool hall/ gas station at 14 years of age. He had an unbelievable and what most would call an "overachieving" work ethic which took him far in life.

William was a member of the Van Alstyne High School class of 1973 and was extremely proud to be the first member of that class to receive an undergraduate college degree. He was also the first member of his family both on the paternal as well as maternal side of the family to receive a college degree. He completed his first two years of study at Texas Tech University and finished his undergraduate studies at East Texas State University (Texas A&M University – Commerce) receiving his Bachelor's of Business Administration degree in Accounting on December 17th, 1976. Although William did not complete his degree at Texas Tech, he always considered himself a Red Raider at heart and remained a loyal TTU fan until the end.

After being told "no" by approximately 75 potential employers in 1977, William returned to college at North Texas State University (UNT) in 1978 and pursued a totally different field of study in Rehabilitation Counseling obtaining a Master of Science degree in 1979 as well as eventually obtaining his Professional Counselor's license. He was a classmate of the first Master's level Rehabilitation Counseling program at NTSU.

After obtaining his master's degree, he applied for multiple jobs in the DFW area and was once again told "no." However, a gentleman by the name of Robert Goodspeed in Sugar Land, Texas offered William a job at the University of Texas Medical Branch (UTMB) in Galveston with the Texas Rehabilitation Commission (TRC).

Mr. Goodspeed gave him a chance to be a productive member of society as no one else would. There William began his twenty-one (21) year career working for the citizens of the state of Texas. All William wanted was to work and be a self-supporting, taxpaying citizen. William frequently expressed his appreciation to Mr. Goodspeed as he knew he would have never had much fulfillment in life had it not been for this one of a kind gentleman.

Throughout his career, William received multiple awards and promotions. He was awarded TRC's Region VI employee of the year in 1987 and Region II's initial "Unique Contribution Award" in 1998. However, his proudest accomplishment was being named the "Alumni of the Year" for the Department of Addiction, Rehabilitation, and Social Work at the University of North Texas in 1999.

William served the disabled community his entire career with the first 13 years being that of a Vocational Rehabilitation Counselor and his last 8 years being that of a Program Specialist overseeing Community Rehabilitation Programs where he did indeed use that accounting degree he had been awarded many years before.

William's attitude was one of "employment, employment, employment". He knew this was the only way he could lead a productive and selfsufficient life. He was forced to take medical retirement at the end of his twenty-one year career due to chronic pain and declining health issues. He was also required to sell his farm land and the fine herd of Brangus cattle he had bought late in his career. Owning a farm and working cows had been a lifelong dream since his FFA days in high school.

Funeral services will be held at Scoggins Funeral Home Chapel in Van Alstyne and will be conducted by Bro. Jim Poole. Interment will be at the Van Alstyne cemetery. The funeral will be held on Saturday, September 15, 2018 at 2:00 p.m. with visitation scheduled to begin 1 hour prior to the funeral.

Pallbearers will be Bob Cox, Hardy (Gene) Bell, Robert Cupit, James Warner, Brian Wallis and Chris Edwards. Honorary Pallbearers will be Terry Carlton, Dan Breech, Scott Cupit, Daniel Cherry, Kevin Stevens and Dave Baldwin.

William was a member of Elmont Baptist Church.

Preceding William in death was his grandparents Emmett and Clara Cupit, Mose and Mae Rigsby, parents Grover Cupit and Thomasine Rigsby Cupit as well as numerous aunts and uncles.

William is survived by his wife Vicky of the home, step-sons James Warner of Merit, TX, Michael Warner of Dallas TX, and George Warner of Weatherford, TX. as well as grandchildren Dusty Rose Hodges, Weston Warner, and Colby Warner. Surviving siblings include brothers Robert Cupit (Lynn) of Concord CA, and Kenneth Cupit (Sharon) of Van Alstyne TX as well as sisters Linda Cherry (Ted) of Hillsboro TX, Connie Blankenship of Howe TX, and Lori Stevens of Van Alstyne along with numerous nephews, nieces, and many cousins. Remaining survivors include Aunt Imogene Montgomery of Ft. Worth TX and Uncles Johnny Rigsby of Haynesville, La. and Phil Rigsby of Greenville, TX.. He is also survived by his two little four-legged buddies, Max and Katie.

In lieu of flowers, William requests donations be made to the Home Hospice of Grayson County in Sherman. The address is P O Box 2306, Sherman TX 75091 and please mention William Cupit with your donation.

Services are under the direction of Scoggins Funeral Home & Crematory, 637 W. Van Alstyne, Pkwy. Van Alstyne, TX; 75495. 903-482-5225.

You may sign the online register book at www.scogginsfuneralhome.com.