Farm and Ranch
Meanwhile, back at the ranch...
Sep 25, 2018
It finally cooled off and we have received some much-needed rain at our place at Bellevue in North Central Texas. Cattle are looking better; the prospects of having early winter graining from our ryegrass is good, the grass is growing and hopefully our fellow producers will make that last cutting and avoid having to pay for all the high-priced hay being offered. The cattle markets have not been too friendly the past couple of years but as we have all witnessed over the years, that too shall change and hopefully for the better.
Just a thought. In my travels to the many trade shows, conventions, etc. I can tell when I am talking to a non-Texan when I tell them I am from North Texas and they think I must be from around Amarillo. I then explain that while that is further north in Texas than I am; that is the panhandle of Texas, not North Texas. You get to North Texas before you get to the panhandle. And why do those yankees insist upon saying they are from Upstate New York as opposed to just north New York. We donít live in up-state Texas, do we?
Back on the ranch fall calving has been in high gear and again we are seeing birth weights running 5-6 pounds lighter that we did with our spring born (in the middle of winter) calves and while Iím not as smart as I am supposed to be, if one of you educated, smart and or intelligent folks know the reason, I would surely like to know why, so drop me a note. With our grass being green here in September, it will really help getting our cows in shape to breed back later this fall and early winter. Breed back is all about nutrition and body condition and around here we totally rely on our forages to provide the resource to do just that.
As we begin to turn the corner from fall to winter in the next couple of months, we need to take another hard look at our cattle and how each one of them is affecting our bottom line. Whether they are really old and cannot maintain body condition, open and not producing a calf or producing a calf that brings back less than what it cost to keep that cow for a year, decision need to be made before we pour more money into them in winter feed and hay with no possibility of getting a positive return on them. Thatís a great first step and maybe the best move we can make in keeping our operations profitable or at lease minimizing our losses.
We recently ran a pregnancy blood test on our cows to see how our spring and early breed back was on our mature cows and first calf heifers. Of the 98 cows tested, 4 came back open, resulting in a 96% conception rate. The 4 cows that came up open were April calvers this year. Of the first calf heifers, we had a 80% conception rate and of the 10 heifers that didnít breed 7 calved in April of this year.
Identifying open and late breeding cattle will get you on top of whatís going on in your herd and allow you to make decisions that will determine your bottom line for years to come.
With spring calves weaned and all worked, it is now time to focus on our new fall born calves. Tagging and weighing at birth each calf, we keep records birth till they are either sold or culled due to age. Being a seed stock producer is a labor-intensive endeavor. The one thing we have prided ourselves in is turning the correct numbers into the American Angus Association so that the resulting EPDs are as accurate as possible. Iíve always been of the opinion that the cattle you buy are only as good as the folks you buy them from.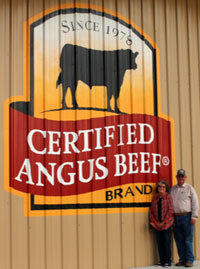 Carla and I have decided to cut our cow herd down significantly this fall to allow us more time to enjoy a few other things besides out cattle. We will be selling bred cows, pairs and heifers if anyone would like to start or expand their herd. While this is a hard decision, we both realize the clock is ticking on our good health and our ability and time to go and do is closing in on us. So, while we are both in good shape (and yes, round is a shape, speaking only for myself) weíre going to have a smaller herd and fewer acres to look after. My article will continue, be that good or bad, but on occasion, it may be written while Iím fishing.

Itís a great time to be in the cattle business since the fall rains put color back into our pastures, at least here in North Texas.

Rayford Pullen
Pullen Angus
rcpullen@yahoo.com