Sports
More than one way to enjoy the outdoors
Sep 10, 2018
It seems the punch line among many hunters today is, "What do you hunt?" The question is asked assuming the answer will be, "Oh, I'm an archery deer hunter" or "I hunt mule deer out west with a rifle" or, "I'm a duck hunter." The question might be answered with, "I'm a catfisherman." I bet you are getting my drift by now and If you've been reading this column long, you probably already know the direction I'm going.
While I think it's great to enjoy all of the above methods of hunting or fishing for the various species, my reply is usually, "Why do we have to lock in on only one species, using only one method?"
I guess it's natural for each of us to have our "favorite" outdoor endeavor, be it hunting in the mountains for elk or "bottom" fishing for red snapper or grouper but the outdoors offers a wonderland of fun opportunities. Granted, cost is always a factor for most of us. Say, for instance, our one 'chosen' active is hunting wild hogs at night using an AR style rifle topped with an expensive thermal scope costing several thousand dollars. The cash outlay alone to get set up in this sport might deplete the extra dollars available for hunting and fishing activities. But, one could opt for a good green or red light attached to a rifle or bow and enjoy night hunting for hogs at a much more economical level or purchase a digital night scope for a fraction of the cost of thermal. This would leave recreational dollars in the family budget fuel other outdoor activities.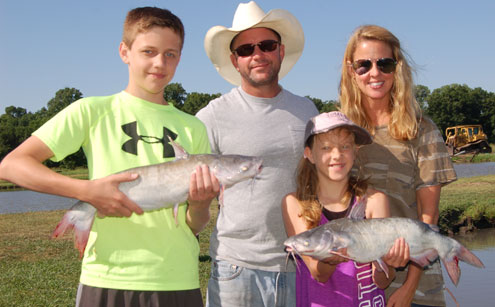 Opportunities abound in the great outdoors but there is no need to 'lock in' on only one activity. Get those youngsters out and spend some quality time with them. The outdoors has been called the great equalizer. It's a great place for young and old alike to bond. photo by Luke Clayton
Not too many years ago and still today for many of us, living the outdoor lifestyle equated to enjoying many different activities, not all of them costing and arm and leg. For instance, that old 12 gauge shotgun was often used in the squirrel woods, for hunting waterfowl and very often loaded with double-ought buckshot, and became an effective harvester of deer. Today, most hunters believe they have to have several shotguns, each designed to target a specific species. I remember the old pump shotgun I shot as a kid. It was equipped with a 'poly choke' that would change from full choke to modified to improved cylinder with a twist. It truly made the old pump gun a versatile hunting tool that was effective on everything from quail to deer. Likewise with the fishing tackle we used. One rod and reel was all that was needed. Today, we fishermen feel lost without rigs designed specifically for the species we target. We feel ill equipped without super sensitive crappie rods, stronger back-boned rods for catfishing and specialized rods for the way we go after largemouth bass.
Back to cost. I can remember well when I was a young man with a family to take care and a limited budget. Back in those days, well before I became and outdoors writer and the connections and opportunities the job affords, I was out there hunting and fishing. I would find a good piece of hunting land out west of Ft. Worth somewhere, make a deal with the ranch owner and recruit several friends to join the lease with me to help pay the cost. We would hunt everything from deer to quail on these leases and the cash outlay was minimal. Costs have risen steeply in hunting and fishing leases but it's still possible to find affordable places to hunt. Of course, the $200 yearly fee I paid 30 years ago might be more like a thousand dollars today, but good deals can still be found. It just requires a bit of networking and approaching landowners in the right manner. Courtesy still goes a long way and most landowners are much more likely to least their property to someone they trust at a reduced price than to someone they don't have confidence in that is willing to pay more.
Another option for locating a quality place to hunt is to purchase an Annual Public Hunting Permit ($48) through Texas Parks and Wildlife (www.tpwd.state.tx.us) or (800-792-1112). This permit allows access to over one million acres of hunting lands across the state. Drawings for hunts on Wildlife Management Areas are also held each year. In past year, I've been drawn for these hunt and always found them well managed and fun times with a good opportunity to harvest game.
The crux of this week's column is to help spark and interest in the outdoors for those that might need a bit of direction. Don't think for a minute that you need one of those $60,000 fully rigged bay or bass boats in order to enjoy fishing or that you need to invest the equivalent of what I paid for my first home to hunt wild hogs. The opportunities abound, they just require a bit of detective work on your part!
LAKE FORK PATRIOT SPORTING CHALLENGE
Come join me on Saturday October 6 in Yantis, Texas for the Lake Fork Patriot Sporting Challenge(www.patriotsportingchallenge.org) . I will be at the J&K Trigger & Bow shooting range located at 9963 S. Hwy. 154, Yantis, Tx. (www.triggerandbow.com) The Sporting Challenge is a nonprofit event that benefits the children of service men and women that were either killed or wounded. Last's year's event brought in $100,000 for the Folds of Honor and went directly to the families. I will be set up near the shooting range with a variety of big bore air rifles and shotguns. As you know, big bore air rifles will be allowed this year for hunting big game in Texas.
Stop by and I'll give you a demonstration and put one in your hands and let you experience the power of air at the range. I'll also be signing my book on hog hunting, Kill to Grill, the Ultimate guide to hunting and cooking wild hogs. For more information, feel free to email me through my website www.catfishradio.org. Come by and let's have some fun!