Obituaries
Weldon Dwayne Gilbert
Sep 12, 2018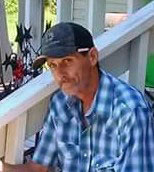 Honey Grove, Texas -- Graveside services for Weldon Dwayne Gilbert, 53, of Honey Grove, Texas is scheduled for 2:00 p.m. Friday, September 14, 2018 at Forest Grove Cemetery in Telephone, Texas. Mr. Gilbert passed away at his home on Wednesday, September 12, 2018.

Weldon Dwayne Gilbert was born in Dallas, TX on October 18, 1964 to Albert Noil Gilbert and Barbara Ann (McKnight) Gilbert. He married Melida Ann Hukill in Dallas, TX on June 1, 1984. Weldon spent a lot of his time on the road, working as a long haul truck driver.

He is survived by wife of the home, Melida Ann Gilbert of Honey Grove, TX; mother, Barbara Gilbert of Honey Grove, TX; daughters, Amber Nicole Gilbert of Honey Grove, TX; Tabitha Sartain of Mesquite, TX; and Sommer Godwin of Denton, TX; son, Bobby Dwayne Gilbert and wife Mandy of Honey Grove, TX; as well as nine grandchildren.

He is preceded in death by his father.