Lifestyles
Willow Wild Cemetery raises $16,205 in its 'Pay-the-Mower' campaign
Sep 17, 2018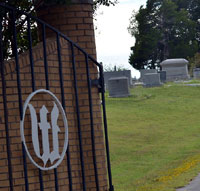 Bonham, Texas -- The Willow Wild Cemetery Association Board of Directors would like to send a big "Thank You" to everyone who donated to its recent Pay-the-Mower fundraiser. The board is happy to report that the total raised was $16,205, which exceeded its initial goal of raising $15,000 by Labor Day.

Unlike many cemeteries, Willow Wild does not have a fixed income to cover routine costs and relies on the community for care and maintenance. As always, your tax deductible donations to the cemetery association are much needed and appreciated.

You may mail donations to Willow Wild Cemetery, PO Box 159, Bonham, TX 75418. Or you may pay online via PayPal at WillowWild.org.