Lifestyles
Painting classes at Creative Arts Center
Sep 18, 2018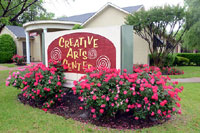 Bonham, Texas -- By popular demand, there are two opportunities for painting classes coming up at the Creative Arts Center. Beginning Acrylic Painting is a six-week course that starts on Wednesday evening, September 19. Each class is from 6:00 p.m. to 8:00 p.m. and students will produce a finished or nearly finished painting each week. Katherine Kluger is teaching the class and is an experienced educator and artist.

The cost of the six-week course is $150 and techniques, color and many other aspects of painting will be taught. A supply list is available and is geared toward people on a budget. Advance sign up is required.

Amelia Ann Rust returns to the Creative Arts Center Saturday, October 6 to teach Oil Painting on Saturday mornings from 10:30 a.m. to noon. Ms. Rust taught several different classes at the center in its early years and is an experienced teacher and well-known artist. Only five students may participate in any given month and advance signup is required. This class will be ongoing as long as there are students to participate and all levels of experience are welcome. The cost of the class is $85 per four-week month.

For more information about these classes and other activities at the Creative Arts Center in Bonham, call 903-640-2196. The center is located at 200 W. 5th Street, one block west of the Bonham square.