Obituaries
Afton Stott Martin
Sep 14, 2018
Celina, Texas -- Afton Stott Martin left this earthly life for her heavenly home on September 14, 2018.
She lived a great life for 88 years and her legacy is found in the beautiful children, grandchildren and great grandchildren that she loved so dearly. Afton was always a friendly and happy go lucky lady, especially in a crowd, at a ballgame or at church. Her husband, Bob, often said, "I think she must be running for office."
She always met others with a hug, conversation and sincere interest in their well being. However, when Bob passed away in 2011, Afton found life more difficult. Little did the family know, it was Bob who completed her. She missed him dearly and her life would not be the same without him.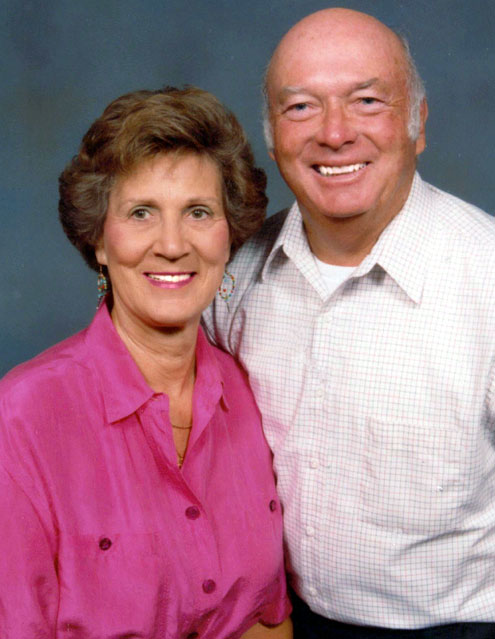 Afton was born in Bynum, Montana, in 1930, to her parents, Roy and Alta Stott. She always loved going home to visit in Montana, as all of her Stott family lived there. She leaves behind these brothers in Montana: Stan Stott, Lloyd Stott and Cloyd Stott, and her only sister and best friend, Glenna Peebles. She is preceded in death by her loving husband, Bob Martin, her brother, Leslie Stott, and her parents, Roy and Alta Stott.
Afton and Bob were devoted sports fans, especially when their children, grandchildren or great grandchildren were playing. Afton also established a reputation for making the best cookies in Texas! At any given ballgame, she would usually enter with a baggie full of her wonderful Gingersnaps and begin passing them around the bleachers. For Christmas, her kids and grandkids could expect a special batch made especially for them...Orange Cookies for Mark, Oatmeal for Paul, and Gingersnaps for Brian, not to mention the special orders for her 7 grandkids and 16 great grandkids. Afton retired after working for many years at the First State Bank in Celina where she made many friends and grew to love Celina and its people. Every Christmas, she delighted in playing all her grandkids in UNO...you have never heard such arguing and laughter! In retirement she loved to go bowling and was in a league with some dear friends from Celina until she became ill in 2015.
Afton is survived by her sons and their wives; Mark and Carol Martin of Celina, Paul and Dee Martin of Cross Plains, and Brian and Candy Martin of Gunter. Her pride showed often when talking of her grandchildren, Jarrod and Heather Martin of Bartonville, Lauren and Mike Wayne of Rochester, New York , Jordan and Starla Martin of Celina, Jeremy and Whitney Martin of Northlake, Justin and Marcella Martin of North Richland Hills, Jacob and Kari Martin of Odessa, and Jaron Martin of Gunter. The delight of her later years was in watching, holding and loving her great grandchildren: Major, Maci, Marisa, Maguire, Maggie, Mattea, Maybree, Jett, Jagger, Jase, Judd and little Jacob. Her 17th great grandchild will be born soon, Landrie.
A memorial is planned for September 24 at 7:00 p.m. at First United Methodist Church in Celina. Rev. John Baldwin and G. A. Moore will officiate. We hope Afton's family and friends will all join us as we celebrate the wonderful life she had. In lieu of flowers, the family has asked for donations to Celina Elementary, 550 S. Utah, Celina, TX 75009. Afton was an avid reader and she would love assisting the children at Celina Elementary in becoming lovers of books and learning.
Afton was a woman that was loved, will be missed and will always be cherished...
Cremation arrangements are under the direction of Scoggins Funeral Home & Crematory, 637 W. Van Alstyne, Pkwy. Van Alstyne, TX; 75495. 903-482-5225. You may sign the online register book at www.scogginsfuneralhome.com.