Local News
City of McKinney to spray areas for mosquitoes
Sep 26, 2018
Two positive mosquito samples of West Nile Virus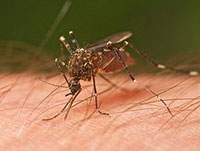 McKinney, Texas -- McKinney is set to spray two areas of the city to control mosquitoes after positive mosquito pools of West Nile Virus were confirmed. Both sprays will start at 10:00 p.m. on Wednesday, Sept. 26, weather permitting.

Spray #1

is generally a mile radius around Falcon Creek Park, 301 Peregrine Dr.

Spray #2

is generally a mile radius around E.L. Tinker Taylor Memorial Park, 4269 W. Eldorado Pkwy.

Signs will be posted at major intersections to notify residents of spraying activity, and information and a map of the spray area will be posted on the city's website at

Residents in the spray area are advised to stay indoors during the spray period and should bring their pets inside that evening. Residents who do not want to spray near their home should contact City of McKinney Health Compliance at 972-547-7447 by 4 p.m. on Tuesday, Sept. 25.

McKinney residents are also reminded to remember the 4 D's of preventing West Nile virus disease:

·

DEET (or other effective mosquito repellent) – Use a mosquito repellent that has been proven to be effective against West Nile Virus-carrying mosquitoes. DEET, Picaridin, Oil of Lemon Eucalyptus (also called p-menthane-3,8-diol or PMD) and IR3535 are good choices.

·

Dusk to Dawn – Avoid exposure during peak Culex mosquito feeding times, from dusk through dawn.

·

Dress – Wear long sleeves and pants to keep mosquitoes from biting.

·

Drain – Remove standing water in your yard or garden to minimize mosquito breeding areas.