Farm and Ranch
Not just animal feed: Sorghum packs nutritious punch for people
Jan 19, 2019
Amarillo – "How many of y'all eat sorghum?"
That's the first question Lizabeth Gresham, Texas A&M AgriLife Extension Service family and community health agent in Potter County, asked a group of producers and seed representatives at a recent sorghum field day west of Amarillo.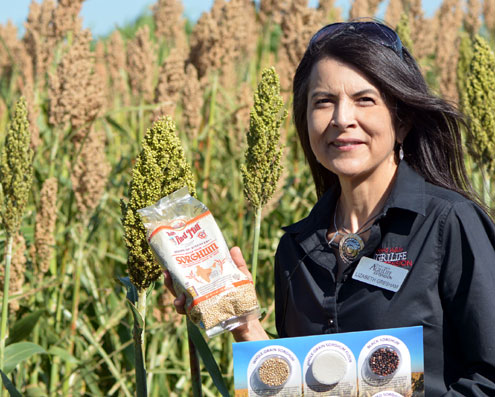 Lizabeth Gresham, Texas A&M AgriLife Extension Service agent in Potter County, discusses the nutritional value of grain sorghum at a field day. (Texas A&M AgriLife photo by Kay Ledbetter)
Gresham spoke at the field day to share the message of AgriLife Extension's new Path to the Plate program, designed to help producers and consumers understand the relationship between agriculture and their health.
https://www.youtube.com/watch?v=CRkw-lTL61o
"Many producers see sorghum as being primarily for animal consumption, but it is for human consumption as well," she said. "We produce a lot of sorghum up here in the Texas Panhandle, but many of us may not be utilizing the grain in our daily diet."
Sorghum is extremely high in B vitamins, magnesium, iron and fiber, Gresham said. It is an antioxidant and considered a whole grain because it has all three parts of the kernel intact: the germ, the bran and the endosperm.
"With sorghum grown in large quantities in Texas, we need to think about market availability and education on how to consume and utilize sorghum in our daily diet," she said. "It's great for your blood pressure and controlling cholesterol and keeping us healthy."
Sorghum is a gluten-free grain, so it is celiac safe to use in baked goods, Gresham said. It has a nutty, earthy flavor and crunchy texture that can add versatility to many dishes.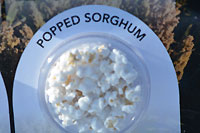 "You can even pop it just like popcorn for a great snack."

Packages of whole-grain sorghum and sorghum flour are currently available for purchase in area supermarkets, Gresham said. Sorghum can also be found in other products to include gluten-free mixes, cereals and snacks.

Sorghum cooks like rice, but it has more protein than rice and corn, she said. When cooking, sorghum is a denser grain and should be used at a 3-to-1 ratio, 3 cups of water to 1 cup of sorghum. It can be used like risotto or Spanish rice with spices added to it, or for breakfast like a porridge in the morning.

The flour is easy to use, just like white flour, Gresham said. But because the gluten is missing, it can change the texture of baked goods. When making waffles, pancakes, muffins and breads, she suggested adding bananas, fruit or applesauce to provide a moisture texture.

"If you don't mind the crumbly texture, you don't have to add anything," she said.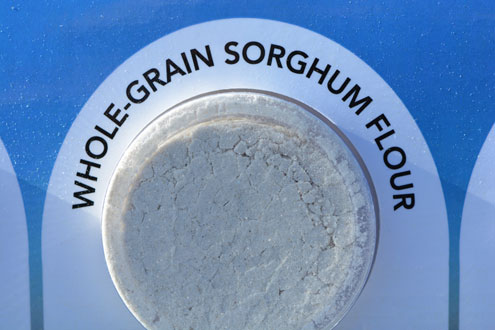 Whole-grain sorghum flour. (Texas A&M AgriLife photo by Kay Ledbetter)
Gresham said when cooked, sorghum will double or triple in volume like other grains, so a small serving can feed the whole family and provide them with an excellent source of energy and whole grains.
"Sorghum packs a lot of nutritional value and is a great versatile grain that can be enjoyed for any meal of the day."