Lifestyles
Great Days of Service registration open in Bonham
Oct 6, 2018
Bonham, Texas -- Registration is open for Bonham's eighth annual Great Days of Service. This year, most service projects will be in the morning on Saturday, October 13.
On Oct 13, volunteers will check-in at the First Baptist Church's fellowship hall starting at 8:00 a.m. and be treated to pancakes by the First United Methodist Church. By 9:00 a.m. volunteers will be sent out to begin work on several different service projects. Volunteers are encouraged to sign up soon at www.gds-bonham.org.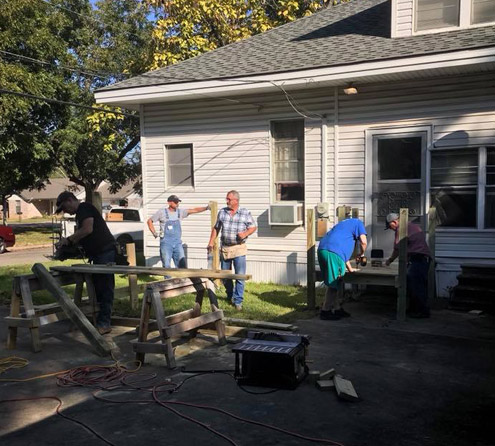 Volunteers construct a wheelchair ramp.
Some projects have limits to the numbers of volunteers. Service projects at Powder Creek Playgroung, Housing Athority playground and Pregnancy Care Center have already filled up. Service projects still in need of volunteers include:
• Community Clean-up – volunteers will pick up trash, pull weeds, put out mulch, weed-eat, rake leaves, pick up branches and clean up at 3 local cemeteries: Gates-Hill, Bailey Inglish and Willow Wild.
• Home Improvement – volunteers will do yard work and minor home improvement projects for elderly and disabled homeowners.
• Food Drive – volunteers will sort, move and re-stock the shelves of local organizations who give food to hungry people. Canned food drives will be held at all of the Bonham schools in early October. Additional food drives will be conducted by other Great Days of Service partner organizations in October.
• Nursing Homes – volunteers will sing, dance, visit with residents of local nursing homes and assisted living facilities.
• Isaiah's Closet - sort gently used children's clothing to support foster homes and children in foster homes.
• Painting the Pavillion - Bonham Kiwanis Club will lead the effort to paint the Pavillion at the Trades Days site and additional community volunteers are needed.
• Fannin Health Clinic – is a free primary health care clinic that is 100% volunteer run and serves uninsured people. Volunteers are need to deep clean inside the clinic and do some yard work outside.
• Recycling Project - Fannin County Literacy Council provides free literacy classes and GED prep classes for adults. In order to raise funds to support these classes, they will once again be hosting the Recycling Project. Everyone is encouraged to clean out their homes of unwanted items and bring them to the Fannin County Precinct 4 Barn at 1369 E. Sam Rayburn Drive, Bonham on Saturday, October 13 from 9:00 a.m. to 12:00 p.m. A few more volunteers are needed to help unload cars and trucks bringing items for recycling. For a complete list of items that will be accepted, go to www.gds-bonham.org.
On Saturday, volunteers can return to the First Baptist Church fellowship hall between 12:00 – 1:00 pm for lunch provided and to hear the results for the day.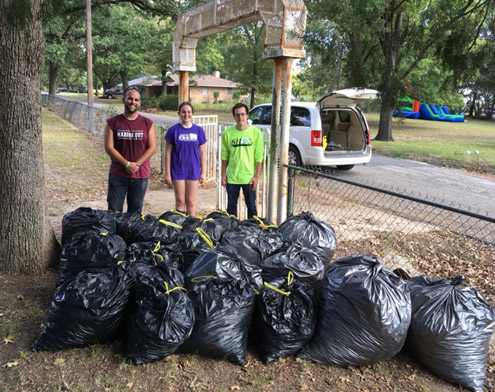 Last year, volunteers also raked up 23 bags of leaves and piled up many branches at Bailey Inglish Cemetery.
The Joy Jamboree will be held in the evening on Saturday, October 13. This event is a special dance, similar to a prom, for adults and young adults with disabilities and/or special needs at the Housing Authority. Volunteers are needed to help with makeup, hair and nails, decorate, serve food, serve as DJ's and help with clean-up. To sign up as a volunteer, go to the Great Days of Service website.
Children and youth under age 18 are welcome to volunteer, as long as they have a responsible adult that will stay with them.
Register Now - Those interested in volunteering for any of the service projects register on-line at www.gds-bonham.org by October 5. This will allow the leaders to plan how many homes can be worked on, how many trash bags are needed, how many nursing homes can be visited, how much food is needed for breakfast and lunch, etc. Some projects will have limits on the number of volunteers who can sign up. This is in an effort to avoid having volunteers with nothing to do at some work sites. Late and on-site registrations will still be accepted, but there will be less choices in what service projects to work on. Sign up at www.gds-bonham.org.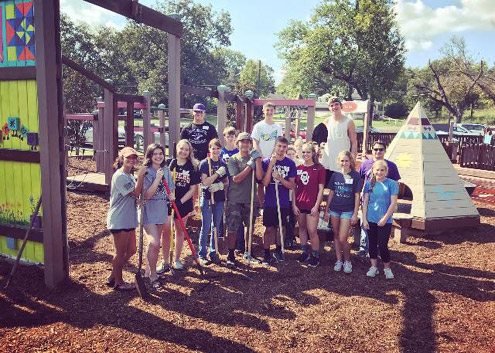 A crew works at Powder Creek Playground