School News
Jeff Kennedy Memorial Scholarship Fund street taco fundraiser Oct. 12
Oct 12, 2018
Bonham, Texas -- The Jeff Kennedy Memorial Scholarship Fund will present a street taco fundraiser from 5:30 p.m. until 7:30 p.m. on Friday, October 12 in the Finley-Oates Elementary cafeteria.
Join us for food and fun before the Bonham Warriors take on Emory-Rains. Come early, park, enjoy tasty street tacos and walk to the game. Bring the family for good food and a good time!
To donate items to the silent auction, contact Lori Flowers at 903-640-5730 between 8:00 a.m. and 3:00 p.m. The silent auction will be open until 7:00 p.m.
All proceeds support local scholarships.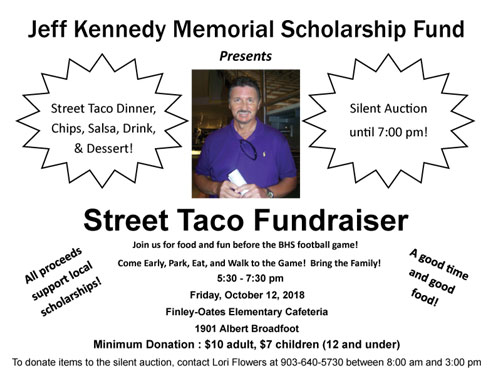 Minimum donation will be $10 for adults
and $7 for children 12 and under.
Finley-Oates Elementary cafeteria is located at
1901 Albert Broadfoot in Bonham.