Obituaries
Gene Ellis
Oct 1, 2018
Bonham, Texas -- Wilmer Gene Ellis, of Bonham, Texas went home to see Jesus on October 1st in his home in Bonham. Family visitation will be held Tuesday evening, October 2, from 6:00 p.m. until 8:00 p.m. at Wise Funeral Home in Bonham, Texas. The funeral will be a graveside service 11:00 a.m. Wednesday, October 3 at the Arledge Ridge Cemetery, officiated by his son-in-law, Bro. James "Buddy" Eblen.
Mr. Ellis was born February 1, 1923 in Fannin County, Texas, the only child of Leonard and Pearl (Dodson) Ellis.
After completing his education in the Lamasco schools, Mr. Ellis completed riveting school in Dallas before being drafted into the Army. He entered the service on Jan. 20, 1943. After training at Ft Campbell, KY, Gene was sent to the European Theatre, where he was assigned to 782nd Tank Battalion. He traveled in France, Czechoslovakia and Germany, driving a water truck, and earning the rank of T5 before being discharged on Feb. 8, 1946.
Following World War II, Mr. Ellis returned to farming life in Fannin County. He met and married the love of his life, Elsie, in November 1946. They built a life together farming, working a variety of jobs and raising their family. Besides share-cropping and doing his dream job of raising cattle, Gene worked construction for the Highway Department, Kraft Cheese Company (1951-54), DeRose Industries (1954-1962), and the General Cable (1962-retirement in 1993).

Mr. Ellis became a Christian as a young adult, and his faith was important to him; he served as a deacon in his church more than once. Even when he could no longer drive, he was faithful to attend Sunday School as often as he could at Trinity Baptist Church, where he was a member.
He was a godly man and led by example in many ways: He took the words "for better or worse" literally, and spent the last few years of his life caring for his wife who passed after 71 years 9 months of marriage; He had great ingenuity as he and Elsie built their own home once they bought their farm south of town – literally tearing down two houses to build another; He took advantage of VA classes to learn how to do electrical and plumbing work himself; He was a do-it-yourselfer before that had a name - there was very little he couldn't build or fix; He befriended the first black man hired at the General Cable and provided him support during that stressful time; He was a good provider for his family; He was a faithful prayer warrior for his family, friends, and church, praying for them individually by name every night.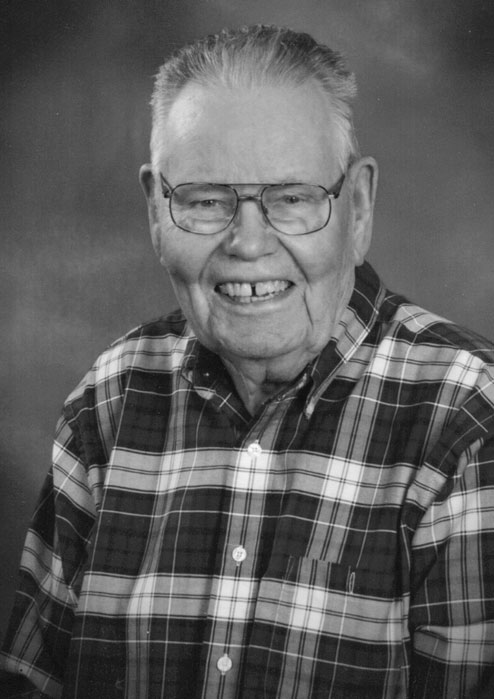 Gene Ellis was preceded in death 36 days by his wife, Elsie Ellis; his father & mother; son-in-law Dick Rush; and grandsons Richard Alan Rush II and Richard Alan Rush III. He is survived by his children: Steve Ellis, wife Kathy, of Allen, TX, Darlene Rush, of Grand Prairie, TX, Rick Ellis, wife Carol, of Bonham, TX, and Kathy Eblen, husband Buddy, of Leavenworth, KS; Grandchildren: Chris Wallace, wife Michelle, of Colleyville, Michelle Hilliard, of Wylie, TX, Shane Ellis, wife Kami, of Plano, TX, Corbin Ellis of Allen, TX, Jeff Rush of Farmers Branch, TX, Lesli Ellis of Weatherford, OK, Meghann Rogers, husband Victor, of Sublette, KS, Ashton Kirks, husband Brad, of Tacoma, WA, Jacob Eblen, wife Emma, of Tacoma, WA, and Zachary Eblen, wife Regan, of Holt, MO; and Great-grandchildren: Megan Pecararo, Tabitha Hedgers, Miranda Wallace, Gabi Hilliard, Tristan Wallace, Hazer Hilliard, Ti Adams, Ryleigh Ellis, Ian Wallace, Logan Ellis, Aidan Wallace, Caleb Ellis, Graham Ellis, Belle Wallace, Henry Eblen, Presley Ellis, Corbin Rogers, Raphael Eblen, and Oliver Eblen; Great-great-grandchildren: Bowen Hedgers & Tatum Hedgers.
Pallbearers: Grandsons Chris Wallace, Shane Ellis, Corbin Ellis, Zachary Eblen, and (honorary pallbearer) SSgt. Jacob Eblen; great-grandsons Tristan Wallace, Hazer Hilliard; (honorary pallbearer) Mark Hilliard & Don Hand
The Ellis family requests that in lieu of flowers, donations be made to Samaritan's Purse at www.samaritanspurse.org to continue to share God's love throughout the world.