Sports
Leonard Lady Tigers top Howe in straight sets
Oct 6, 2018
Leonard -- The Leonard Lady Tigers improved to 6-2 in District 10-3A with a three-set victory over the Howe Lady Bulldogs.
Leonard held on for a pivotal 26-24 win in the opener before taking the next two sets, 25-14 and 25-19.
Abby Wilson, Chloey Baker, and Mikayla Farber led the team in serving with a combined 48 serves with 0 errors.
Madelyn Butler had 13 kills and 11 digs.
Mikayla Farber had 13 kills and 15 digs.
Linda Feagan had 33 assists and 15 digs.
Chloey Baker led the team defensively with 22 digs.
Leonard (6-2) travels to Bonham (4-3) on Tuesday.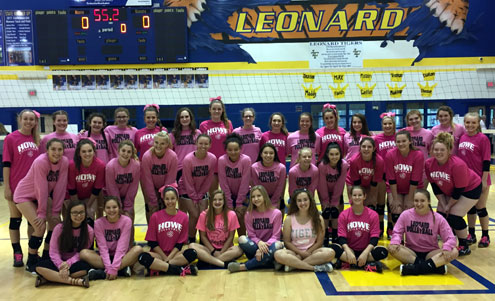 Leonard and Howe volleyball players come together for Cancer Awareness before their volleyball match.