Obituaries
Mary Stockton
Oct 8, 2018
Bonham, Texas -- On October 6, 2018, Mary Lee (Adams) Stockton, loving wife, Mom, and Nanny (Nae Nae), passed away at the age of 67. Cremation arrangements are under the direction of Cooper-Sorrells Funeral Home in Bonham, Texas. A private memorial service is being planned.
Mary was born on November 8, 1950 in Dallas, Texas to James Lee and Mary (Starnes) Adams. She married Donald Ray Stockton on June 11, 1982 in Randolph, Texas. Mary soon joined her husband on the road as a self-employed truck driver. Her family, friends, and dogs meant everything to her. She was fiercely loyal to those she cared about, and she made sure they knew it with cards for every holiday and special deliveries of her famous Snickerdoodle cookies when they were needed the most.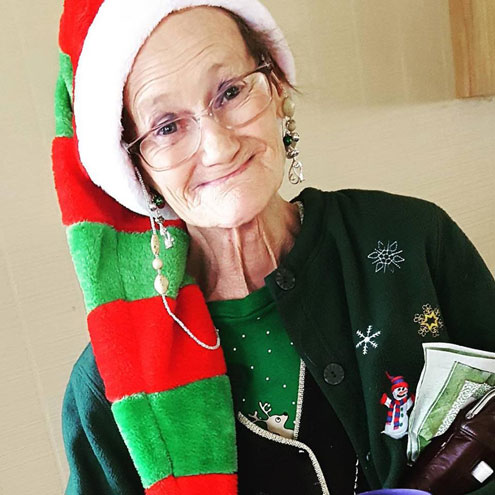 Mary Stockton is survived by husband, Don Stockton of Bonham; son, George McElveen and his wife Shawna of Garland; grandchildren, Erica Mann, Olivia McElveen, Michael Daus, Dylan McElveen, Delaney Watkins, Tyler Watkins, Cade McElveen, and Grant McElveen; and great grandchildren, Izzy, Annabel, McKenna, and Colson. She is also survived by sisters, Barbara Bellamy and Fran Tucker; brother, George Adams; and by many loved nieces and nephews. Mary was preceded in death by her parents, James and Mary, her daughter, Tina, and her brother James.
The family would like to thank Jason & Lacey Brewer, and Hector & Reyna Grijalva and families for the special care and friendship they gave to Mary over the last several years.
In lieu of flowers, donations to help with her final expenses can be made at www.gofundme.com/funeral-expenses-for-mary-stockton.
To convey condolences or sign an online registry, please visit www.coopersorrells.com.