Obituaries
John Chapman Saunders
Oct 10, 2018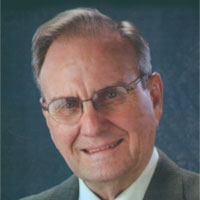 Fort Worth, Texas -- John Chapman Saunders, M.D. passed away Saturday morning, October 6, 2018, surrounded by his loving family. Dr. Saunders was 88.

A celebration of his life will be held at 2:00 p.m. Saturday, October 13, 2018 in the sanctuary of University Christian Church, 2720 S. University Drive. Family and friends will gather in the churchís Gallery Area immediately following the service.

In lieu of flowers, consideration of contributions to the Denison Athletics Booster Club Memorial Fund, 1201 S. Rusk Avenue, Denison, TX 75020, the TCU Frog Club, TCU Box 297140, Fort Worth, TX 76129, or to Community Hospice of Texas, 6100 Western Place, Ste. 105, Fort Worth, TX 76107, all in memory of Dr. John Saunders, is suggested.

Born December 17, 1929 in Bonham, John was the son of John Bacon and Donna Eloise Chapman Saunders. He graduated from Bonham High School and attended Texas Christian University where he met the love of his life, Ellen Wilson. They married June 16, 1951 while John was attending the University of Texas Medical School at Galveston.

After graduating, John interned at Baylor Hospital in Dallas followed by two years in the U. S. Air Force, serving as a medical doctor. Following his tour of duty, John and Ellen moved to Monroe, Louisiana where he did his residency at Charity Hospital.

In the summer of 1958, John, Ellen and their children moved to Denison where he opened his medical practice in the Barrett Bldg. In the early years, John was on the staff at the Katy and Madonna hospitals. He was among a group of physicians with Mr. Ralph Porter, who had the vision to create Memorial Hospital in Denison, which later became Texoma Medical Center. After leaving private practice, John served as Medical Director of Urgent Care for Texoma Healthcare System.

Johnís life was devoted to family, church, medicine and the community. He was a loyal member of the First Presbyterian Church of Denison where he served as an elder and taught youth and adult Sunday school classes. He was a die-hard Denison High School sports booster and served as team physician for 57 years; and served many years on the DISD school board. Those who knew him well couldnít miss his devotion and support to TCU and the Horned Frogs.

His family would like to express our heartfelt appreciation to the staff and friends at The Stayton for the loving attention and compassion shown to John and themselves. They would also like to thank all of the physicians and caretakers at Texas Health Harris Methodist and Community Hospice of Texas for their exceptional care.

He was preceded in death by his parents and four sisters, Joanne, Dottie, Betsy and Jean.

In addition to his loving wife of 67 years, Ellen, John was father to his daughter, Pat Muckleroy and her husband, Harold, and sons, Steve and his wife, Cathy, and Bill and his wife, Jerri; grandfather of ten; great-grandfather of seven; and uncle to several nieces and nephews and their families.