Farm and Ranch
Cattle prices rise amid improving hay, forage conditions
Oct 11, 2018
COLLEGE STATION – Cattle prices have been rising following widespread rains and improved winter grazing prospects, according to a Texas A&M AgriLife Extension Service expert.
Dr. David Anderson, AgriLife Extension livestock marketing economist, College Station, said calf prices have risen in recent weeks due to improving pasture and rangeland conditions and prospects for winter grazing. Local auction prices have been steadily creeping upward over the last six weeks.
"Rain has helped local prices," he said. "That has created some demand for stockers for winter grazing."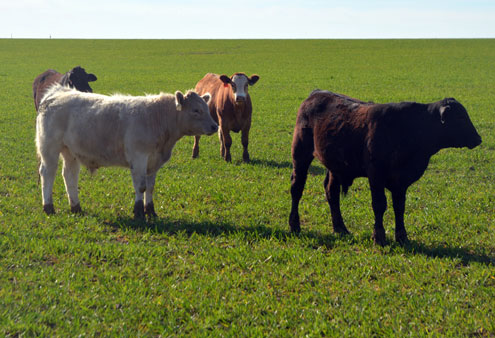 Improving pasture and rangeland conditions are prompting higher demand and prices at markets statewide following summer drought. (Texas A&M AgriLife photo by Kay Ledbetter)
Cattle continue to move through feedlots, and prices are beginning to hit some seasonal fall increases, Anderson said.
However, beef production continues to be high amid good export and domestic demand, he said. Wholesale choice beef prices are above where they were a year ago even with large production levels and increased amounts of beef in cold storage.
"That is largely due to a lot of beef production, but also booming exports and large imports," he said. "The more trade and beef movement we have means more beef in stocks because beef in transit has to stay cold. So, lots of cold storage stocks are largely due to lots of beef moving."
Anderson said cold storage stocks may also reflect herd culling, as producers dealt with hot, dry conditions in late summer.
"They sent a lot of cull cows to market before the rains came," he said. "There's seasonal culling that goes on regardless, but what changed was the timing as producers may have culled a typical number of cattle a little earlier because of conditions."