Lifestyles
Art Contest winners
Oct 11, 2018
Bonham, Texas -- The Creative Arts Center hosts an Art Show & Contest each year in September. This year was no exception and the number of entries was up from 2017. The judge was Walt Davis of Commerce. Both adults and youth had an opportunity to compete.The arts center wishes to thank McCraw Oil/Kwik Chek, Wise Funeral Home and Frontier Properties for sponsoring the contest.
"This year's art was superb," said CAC Executive Director Lisa Avila. "The quality was fantastic and we had a great response from many regional artists. Our congratulations to all who entered and kudos to our winners."
Youth entries were all in one category - Drawing/Painting. The winners were:1st place - The Kardashians - Katie Vest; 2nd place - Subatomic Universe - Jillian Bayer; 3rd place - Baldi - Ja'Darius Blander; 4th place - Hill Country Blues - Amanda Wiggins.
The Adult winners were as follows:
Best of Show - A Watchful Eye - Jana Rash (photograph)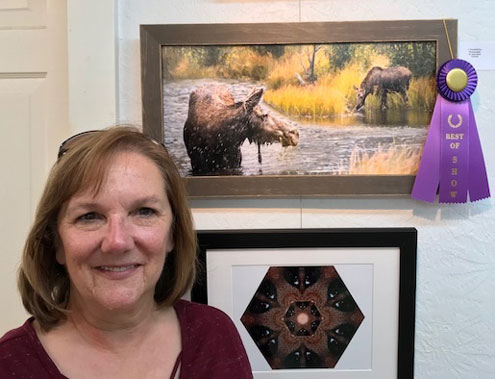 Best Of Show winner in the Annual Art Show & Contest - Jana Rash, with her photograph A Watchful Eye.
Oil
1st place - Patches and the Butterfly - Amelia Ann Rust
2nd place - Mount St. Helens - Marilyn Todd Daniels
3rd place - Herbalists - Frances Robinson
Acrylic
1st place - Trepidation - Steve Boyce
2nd place - 'Neath the October Sky - Sandy McCormack-McGregor
3rd place - Willie #10 - Chris Cravens
Watercolor
1st place - Red Dragon - Anne Nahser
2nd place - Untitled - Carolyn Cook Fauble
3rd place - Radius in Time - Anne Nahser
Honorable Mention - Coffee with the Creator - Julie Copper
Honorable Mention - The Visitor - Angie Moore
Merit Award - Kountry Living - Amelia Ann Rust
Photography
1st place - Radiance - Nancy Shuler
2nd place - Longhorn Cavern State Park - Cindy Boyce
3rd place - Sunflowers Near Pawnee Bluffs Co.- Cindy Boyce
Merit Award - Venice - Jerry Panter
Mixed & Other Media
1st place - Dandelion Wind - Chris Cravens
2nd place - Coat of Many Colors - Donna West
3rd place - That Crazy Dream - Sherry Solomon
Honorable Mention - Blues in the Night - Sherry Solomon
3D
1st place - Melting Icescapes-Global Warming - Andie Comini
2nd place - Texas Juniper&Cedar Coffee Table - Terry Blose
3rd place - In Off the Range - Steve Boyce
Merit Award - Mildred's Holy Roller Party Dress - Andie Comini
Drawing
1st place - Renee - Philip Blander
2nd place - Mrs. Henson - Philip Blander
3rd place - Lost in Thought - Steve Boyce