Religion
First Presbyterian Church of Bonham to host fall concert Nov. 10
Nov 10, 2018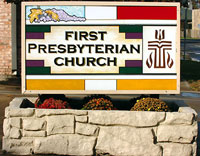 Bonham, Texas -- The First Presbyterian Church of Bonham will host a fall concert on Saturday, November 10, 2018, at 2:00 p.m. in the church sanctuary. The concert will feature Cindy Hall, soprano vocalist, and Ralph Manuel, pianist, composer and arranger. The special musical event will be followed by a reception in the Williams Building. Everyone is welcome to attend.

Cindy Hall is a graduate of Plano High School, Baylor University and Southern Baptist Theological Seminary in Kentucky. She served with the International Mission Board of the Southern Baptist Convention from 1979 to 2014 in South America and Central Asia. Now retired she lives in Ravenna, Texas, is a member of First Baptist Church, Bonham, is involved with their music program and sings with the North Texas Concert Chorale and the North Texas chapter of The Singing Women of Texas, a group sponsored by Texas Baptists.

A native of Oklahoma City, Oklahoma, Ralph Manuel has music degrees from Oklahoma City University, Southwestern Baptist Theological Seminary in Fort Worth, Texas, and B.H. Carroll Theological Institute of Irving, Texas. He lived in Recife, Brazil, for over 20 years, where he served as a music missionary. He then served for 13 years as Minister of Music and Worship at Heritage Baptist Church in Annapolis, Maryland. Ralph is currently living in Dallas, Texas. He and his wife Donna have two grown children, James and Melissa, and one daughter-in-law, Marisa.