Farm and Ranch
Nature, market forces made 2018 tough on Texas grain producers
Nov 2, 2018
COLLEGE STATION – Texas grain producers faced a difficult 2018 as natural and market forces aligned against them, according to Texas A&M AgriLife Extension Service experts.
Drought conditions and high temperatures hurt production as low prices, all-time record yields in the midwestern U.S. and trade uncertainties created a tough market for corn and sorghum growers across the state, they said.
Dr. Ronnie Schnell, AgriLife Extension agronomist, College Station, said corn and sorghum acres were down slightly, to 2.3 million acres and 1.6 million acres, respectively, mostly due to low grain prices.
Yields were down for dryland acres of corn and sorghum while yields were better for irrigated fields, Schnell said.
"Yields for dryland acres in most areas of the Coastal Bend, upper Gulf Coast, Central Texas to Dallas were worse than a typical year," he said. "There were isolated fields that did well, but drought and high temperatures hit as plants were going into pollination and grain fill."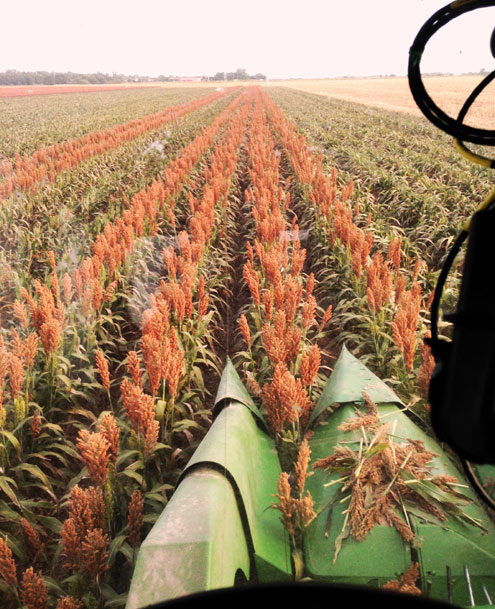 Sorghum and corn harvests were complete in most regions of Texas, and poor growing and market conditions made 2018 a tough growing season for producers. (Texas A&M AgriLIfe Extension Service photo by Dr. Ronnie Schnell)
The Texas High Plains accounts for about 40 percent of the state's corn acres, and 60 percent of the overall statewide crop.
Sorghum faired a little better because it is more heat and drought tolerant, Schnell said. Farmers have also managed sugarcane aphids well with the use of aphid-tolerant varieties and due to vigilant monitoring of their fields.
Schnell said most grain fields outside of the High Plains were harvested before rain prevented farmers access to fields. While rain is welcomed in the Panhandle region, it will delay harvest of grain crops in that region for a bit.
Dr. Mark Welch, AgriLife Extension economist, College Station, said grain producers experienced a tough year both on the production side and at market in 2018.
Lower yields in dryland fields and a higher cost of irrigation compounded the financial impact to producers, and market conditions will likely worsen this season's results, he said.
"It was a tough, tough season for grain production," he said.
Sorghum prices were already low as trade disputes with China created more uncertainty, Welch said.
"Up to 80 percent of all sorghum exports go to China, so that number went to zero for now," he said. "As exports dropped off, other sectors came up, such as sorghum for food production, seed and industrial use, but again due to lower prices."
Corn was not affected by China, but other factors contributed to poor market conditions for producers, he said. Texas cash sorghum and corn prices held up relative to the futures market in Chicago this season, likely because of tight local supplies.
"Texas corn producers took a real hit as they dealt with seasonal price dips and uncertainty in (the North American Free Trade Agreement), which was compounded by all-time record grain production in the Midwest," Welch said. "It's unclear what that production will mean, but it won't help prices."
Texas grain exports to Mexico and Canada appear to be more secure at this point in the NAFTA negotiations, but Welch said the most positive news for Texas grain producers is the possibility for a good soil moisture profile next spring.
"There hasn't been much good news for grain producers this season," he said. "But the rain we've been receiving is encouraging."