Lifestyles
VFW Post 2772 to host FREE Thanksgiving meal for the community
Nov 17, 2018
Sherman, Texas -- Veterans of Foreign Wars Post 2772 will host a Free Thanksgiving Meal for the community on Saturday, November 17 from 12:00 p.m. to 4:00 p.m. (or until gone).
This year, multiple veteran service organizations and several other community service organization volunteers, will partner to host this event at VFW Post 2772. All citizens of our local community are invited to participate and receive a Thanksgiving dinner featuring smoked or baked turkey and ham, side dishes, bread, salad, dessert and a drink free of charge.
Admission is free and there will be complimentary food, family entertainment and the Texoma Bloodmobile will be on-site from 10:00 a.m. to 3:00 p.m. for those wishing to donate.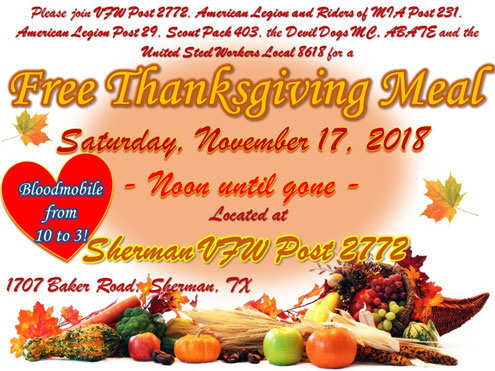 Some of the organizations participating are:
Sherman VFW Post 2772
American Legion MIA Post 231
American Legion Riders Post 231
United Steel Workers Local 8618
ABATE
Devil Dogs MC
Scout Pack 403
Bonham American Legion Post 283
Sherman American Legion Post 29
Texoma Regional Blood Center
Texoma Heroes
...and more!
Since 1964, the Sherman VFW Post 2772 has been serving the community, its veterans and their families. From raising millions for national cancer research to supporting the Veterans and citizens of our local community, the VFW is here for you.