School News
Frontier Day at Audie Murphy American Cotton Museum
Nov 3, 2018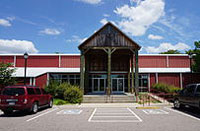 Greenville, Texas -- Join the fun at the Audie Murphy American Cotton Museum for Frontier Day. It's all about life during the early frontier days for children during an era where there was no tv or video games!

There are going to be all sorts of games and activities for children to do as well as watch demonstrations like rope making and basket weaving. Children will be able to learn archery, shoot a BB gun, play old-fashioned carnival style games, make a craft, learn how to rope, make campfire biscuits and home-made butter. They will also be able to play games like marbles and horseshoes and participate in sack races.

These are just some of the activities and games that all of the children will be able to do.

All of the activities will take place outside on the grounds of the Audie Murphy/American Cotton Museum. The event will take place on Saturday, November 3, 2018 from 10:00 a.m. – 1:00 p.m. The admission will be $5 per child (ages 4-15). One adult will be free with every child, after that $5 per adult. Fee also includes admission to the museum. Children must be accompanied by an adult. The Museum is located at 600 I-30 East in Greenville, Texas. For additional information please contact the Museum at (903) 450-4502.