Local News
High on the Hawg BBQ fundraiser at Hagerman Nov. 3
Nov 3, 2018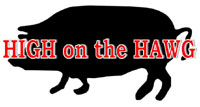 High on the Hawg
Saturday, November 3, 2018, 4:00 p.m. – 8:00 p.m.
The 9th Annual High on the Hawg BBQ and silent auction will be held November 3 from 4:00 p.m.-8:00 p.m. at Hagerman NWR. Proceeds from this event will fund a handicapped accessible fishing dock for the Big Mineral area. Come and enjoy pulled pork and all the fixings!
This year the event will be held in the new shop building: hop on the Carlos and Eulalia Cardinal Tram after parking and head straight to the dinner—better yet— do some Christmas shopping in the Nature Nook first!
Our favorite band, Greg Guymon and Little Big Iron, will be entertaining us from the shop mezzanine. The Silent Auction, will also be set up in the shop: bid on Disney World tickets, a night hike guided by Courtney Anderson, a complete set of 1916 Antique Bird & Nature Journals, Winstar Golf, Hotel and meal gift certificates and more! Tickets at the door only, $10 adults, $5 for age 12 and younger. Come and join us!
Early Bird Guided Walk
Saturday, November 10, 2018, 8:00am – 9:30am
Join us for the last guided Early Bird Walk of the year, weather permitting. Meet at the Visitor Center. Bring binoculars or borrow ours. Return in time for Second Saturday.
Second Saturday - Fish
Saturday, November 10, 2018, 10:00am – 11:30am
Dr. Tim Patton, professor of Fisheries and Wildlife Science at Southeastern Oklahoma State University, will be the speaker this month, with a presentation on "Fish". The presentation will include information about the Black bass, sand bass, small mouth bass, crappie, bluegill, catfish and the king of Texoma fish: the "striper" (Striped bass). Learn more about the fish of Texoma at this free nature program!
The Refuge Rocks: "The Call of the Wild" - For Ages 4 - 12
Saturday, November 17, 2018, 10:00am – 11:30am
Can you howl like a coyote or honk like a goose? Learn about the sounds and communications of animals in the wild. Animals might not be able to speak like humans, but they certainly have other ways of communicating. Wolf howls, frog croaks, bird chirps -- even the waggle dance of the honeybee or the blinking of a firefly -- are among the many ways animals transmit information to each other. Come out and learn how to "talk like the animals". Parents or responsible adult accompanies children in the 4-7 age group; separate, age-appropriate activities for the older group. Please register each child individually by visiting: https://www.friendsofhagerman.com/Contact
Photo Club Presentation
Saturday, November 17, 2018, 1:00pm
Frank Richards will present "Leading The Eye"
The photographer can make the viewer's experience more rewarding by using design elements to direct and hold the viewer's attention. I will talk about how we can help the viewer's eye to enter the frame naturally, be drawn to the center of interest and then provide paths to explore the entire image. This is an important part of creating a good composition and a memorable photograph.
After retiring 17 years ago, photography has provided a creative. I joined the Dallas Camera Club in 2005 and participate in the club's monthly competitions in the masters group. I have won numerous club awards in all competition categories.
I honed my photographic skills thru personal study, dialog with others and recently spent several years working my way through the photography and art courses at Richland College. I have also been fortunate to attend workshops with internationally recognized photographers. I also teach photography classes and workshops.
My images have won local, regional and national competitions, and can be found in private and public collections. I have had winning images in the State Fair of Texas, Trinity River Contest, Heard Nature Photography Contest, PSA International Exhibition, North American Body Painting Championship (yep, you read that right) and a few more. I have been fortunate to have been published in a few newspapers, magazines, calendars, websites and books.
My photographic interests are quite eclectic. My favorite subjects are landscapes, places and things.
Tram Tours
Unfortunately, all tram tours are cancelled until further notice due to flooding at the refuge.

When resumed, our all-electric Carlos and Eulalia Cardinal Express guided tour along Wildlife Drive at the refuge is free and lasts 60 - 90 minutes (donations appreciated).

Learn about the history of the refuge while enjoying the birds and other wildlife.

Plenty of stops for bird watching and photos.

Once resumed, tours will be offered at 2:00 PM on Saturdays and Sundays, weather permitting. Recommended for age 6 - adult. To check the status of the tours and make a reservation, please call (903)786-2826 between the hours of 9 am - 4 pm Monday - Saturday or 1 - 5 pm on Sunday.

Standbys are welcome, if space permits.