Religion
Arts & Craft Bazaar at North Park Baptist Church in Sherman
Nov 2, 2018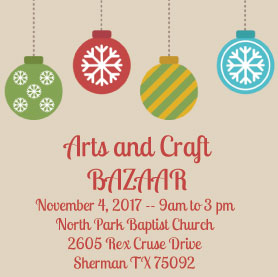 Sherman, Texas -- The 4th Annual Arts and Crafts Bazaar by creative artists of Texoma will be held on Saturday, November 3, at North Park Baptist Church, 2605 Rex Cruise Drive, Sherman, Texas.

The Arts and Crafts Bazaar runs from 9:00 a.m. until 3:00 p.m. November 3. We specialize in hand painted, one-of-a-kind holiday decor for fall and Christmas.

Themes include farmhouse, rustic wood signs, wreaths, hand carved wood ornaments, memory boxes, trays, vintage cake covers, wall decor, ornaments and a wide variety of gift items.