Lifestyles
Bid on bicycle sculptures at Creative Arts Center
Dec 12, 2018
Bonham, Texas -- Autumn in Bonham was a success again this year, but one of the new events in conjunction with the bike rally was the Bicycle Sculpture Challenge. The challenge was offered by the Creative Arts Center not only to promote interest in the rally but to bring art into the mix. The winner of the challenge was Kevin Hopper with his sculpture entitled The Bikebarian.
"We were thrilled with the participation in the challenge this first year and plan to do it again next year. Visitors to the gallery who see the sculptures - all made entirely from bicycle parts - are amazed at the creativity," said Lisa Avila, CAC Executive Director.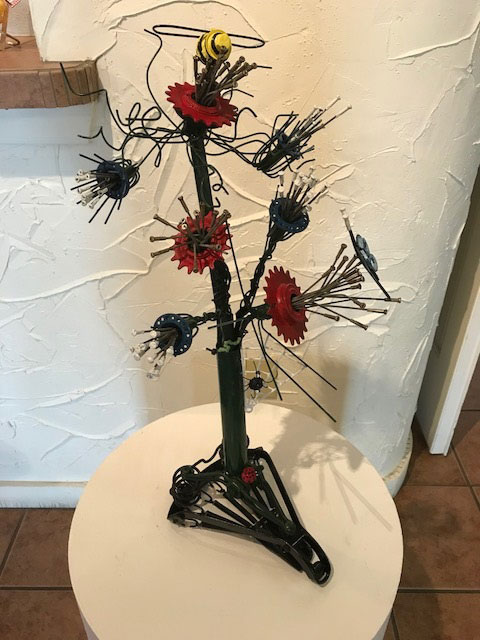 Table sculpture by Di Hopkins
After the contest/challenge, most of the sculptures were donated to the center for auction as a fundraiser, and the Silent Auction began last week and will run through December 14. Some of the art is suitable for the home, some is great as yard art and one little colorful bike is functional and can be ridden. The artists who participated were Chris Cravens, Kevin Hopper who won the contest, Di Hopkins, Ian Ingram, and Lauri Blake.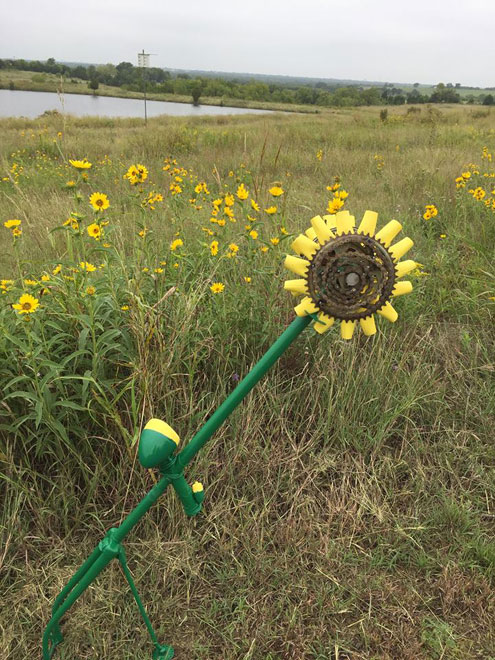 Lauri Blake's sunflower
To place your bid, come by the Creative Arts Center at 200 W. 5th in Bonham or call them at 903-640-2196. Photographs of the sculptures can be seen on their website at www.creativeartscenterbonham.com or on Facebook.
Bike with new painting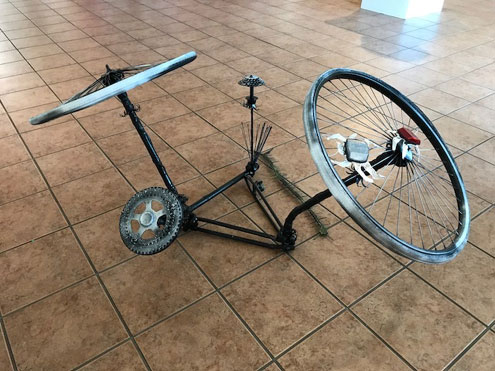 Bugs-n-shrooms-berry