Obituaries
Al Turinsky
Oct 30, 2018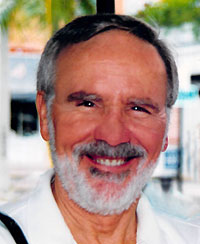 Honey Grove, Texas -- Albert James Turinsky passed away peacefully Friday, October 26, at his home in Honey Grove, Texas. Sherry Turinsky, devoted wife and caregiver, was at his side as he departed this life and went home.

Al was born February 14, 1935 to Iva May Durham Turinsky and Adolph Noble Turinsky in Kansas City, Missouri. He and his sister, Suzanne Watts, grew up in Tulsa, and spent time on the family farm in Mounds, Oklahoma. He attended Holy Family High School in Tulsa where he played football and made lifelong friends who supported him to his death with love and humor. He was also a Golden Glover boxer and was Oklahoma AAU Lightweight State Champion.

Hard work and fun were his compass and he was successful in his careers spanning furniture salesman, independent businessman and proprietor of the Honey Grove Cattle Company and always provided the extras his family enjoyed. He was actively involved in his community, campaigning in political races, and promoting spiritual growth with participation in parish activities as an active and involved member of St Elizabeth Catholic Church in Bonham.

Al was preceded in death by his parents, Adolf Turinsky & Iva Durham Turinsky; son, Albert James Turinsky, Jr.; brother, Joseph Turinsky; grandsons, Mark Joseph Nevitt and Marcus Gaston Navarro.

Surviving are his wife of 23 years, Sherry Lynn Turinsky; four daughters, Theresa Nevitt of Rockwall, Valerie Storer and husband Wayne of Winchester, VA, Anita Navarro of Longview, TX and Katherine Smith of Arlington, TX; step-daughter, Shelly Tanner and husband Scott of Trenton, TX; step-son, Jason Shaw and wife Jeannene of Olathe KS; nine grandchildren, Joshua and Justin Nevitt, Aubrey O'Hara, Anna Durkin, Austin Cote, Alexandra Scott, Rachel Nelson, Mareesa Jackson and Eric Smith; 4 step-grandchildren, Eli North, Sydney Tanner, Katelyn and Jillian Shaw; nine great-grandchildren; and sister, Suzanne Watts of Little Rock, AR.

A rosary will be held 5:00 p.m. Sunday, November 4 at Wise Funeral Home Chapel in Bonham. Mass of Christian Burial will be held 10:00 a.m. Monday, November 5 at St. Elizabeth Catholic Church Bonham.

lnurnment will take place at Sacred Heart Cemetery in Rowlett on a later date.

On online guestbook is available at www.wisefuneralhome.com.