Religion
Blessings Box dedicated in Ector
Nov 14, 2018
Ector, Texas -- A small group gathered Saturday morning on October 27, 2018 to dedicate the Blessings Box at 109 N Main, Ector, Texas.
Darrel Hathcock led the group to imagine Christian Service and Jim Glaser prayed for the good the hygiene & paper goods items may bring about. Though the Ector Friendship Club is sponsoring the Box, they invite the support of the whole community.
This idea grew from many hearts: Glaser Family Charitable Foundation purchased the building materials, Precision Glass furnished the safety glass, vinyl lettering was donated by Free Spirit; all of Bonham. The Ector shop class put it all together under the direction of Coby Cook.
To all who helped and WILL help in the future; the Ector Friendship Club says "Thanks & may God Bless all done in His name."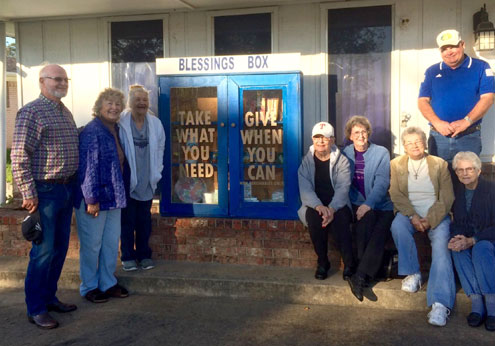 (L-R) Jim & Raynell Glaser, Fran White, Laura Sue Jones, Linda Bridges, Dolly Stone, Donella Baecth, (standing) Ector ISD Superintendent Gary Bohannon