Local News
Change your clock, change your smoke alarm batteries
Nov 4, 2018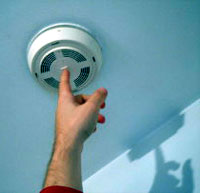 McKinney, Texas -- As the hands on our clocks fall back Nov. 4, the McKinney Fire Department (MFD) wants you to think about an important way to move fire safety forward as a priority in your home. The time changes twice a year are good time to remember to check your smoke alarm and change the batteries.

According to the National Fire Protection Association, almost two-thirds of home fire deaths resulted from fires in properties without working smoke alarms. A working smoke alarm significantly increases your chances of surviving a home fire.

The National Fire Protection Agency Report states:

Three of every five home fire deaths resulted from fires in homes with no smoke alarms (38%) or no working smoke alarms (21%).

The death rate per 100 reported home fires was more than twice as high in homes that did not have any working smoke alarms compared to the rate in homes with working smoke alarms.

In fires in which the smoke alarms were present but did not operate, almost half (46%) of the smoke alarms had missing or disconnected batteries.