Sports
Lindsay Lady Knights put away Petrolia to advance to regional quarterfinals
Nov 4, 2018
Henrietta -- The Lindsay Lady Knights plowed through Petrolia in straight sets to sweep the area round of the playoffs.
Ashley Fleitman led the way with 11 kills as Lindsay reeled off wins of 25-17, 25-13 and 25-15.
Rachel Metzler slammed down seven kills, Makenzie Fleitman finished with six kills, Kylee Fleitman put down four kills, Brianna Craigie had three kills and Macey Ott finished with two kills.
Kaylee Colwell handed out 14 assists and Ashley Fleitman had 12 assists.
Kloe Copeland had four digs and Olivia Hertel also had four digs to go along with a pair of aces.
Lindsay will face Archer City in a Region II-2A quarterfinal contest to be held at Bridgeport High School on Tuesday, November 6 at 6:00 p.m.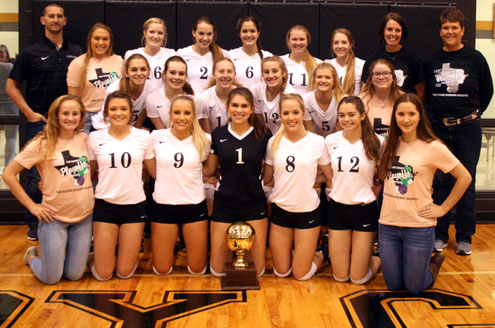 Lindsay Lady Knights
Lindsay stats vs. Petrolia were:
Ashley Fleitman 6 aces, 11 kills, 2 blocks, 4 digs, 12 assists
Makenzie Fleitman 2 aces, 6 kills, 2 digs
Kaylee Colwell 2 aces, 4 digs, 14 assists
Rachel Metzler 7 kills, 10 digs
Olivia Hertel 2 aces, 4 digs
Kylee Fleitman 4 kills, 2 blocks
Brianna Craigie 3 kills, 4 digs
Macey Ott 2 kills, 2 blocks
Kloe Copeland 4 digs