Lifestyles
Anna mayor among top 40 under 40 in Grayson County
Nov 6, 2018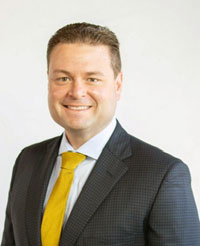 Anna, Texas -- Anna Mayor Nate Pike was recently featured among Grayson County's rising community and business leaders, honored by being listed in the inaugural "Top 40 Under 40 Business Professionals."

Cited for his work as a financial advisor with the Utter Wealth Management Group of Wells Fargo Advisors, Pike sees his role as seeking a level of trust with clients in much the same way he approaches his duties as mayor of one of the fastest growing cities in North Texas.

"There's an unmistakable parallel between what I do for my clients and what I try to accomplish for the residents of Anna," he said. "I've been blessed with some great mentors who have taught me the principles of servant leadership, and I apply those principles in my professional interactions as well as in my community service. It has been an indispensable part of how I conduct myself."

That sense of outward focus has been critical in leading a city that is seeing constant and rapid change. Listening to residents, interacting with the Anna staff, and above all, creating a sense of common purpose among Council members with disparate opinions, have been hallmarks of Pike's service.

"I believe in the kind of leadership where everyone works together as a team to make great things happen," he added. "Applying the servant leadership model where it would add the most value in our community has been the right call, in my opinion. We're seeing many projects come to fruition in Anna, and that speaks to the cooperative effort among the stakeholders."

Anna's seemingly meteoric growth only looks to pick up steam as development from both north and south come together in the growing city. Residential, and not surprisingly, commercial development will likely set records in 2019.

"In times where you experience rapid growth, you must be able to adapt quickly to things that are always changing around you," he said. "Among the most gratifying aspects of my tenure as mayor has been to watch seven different individuals and personalities on Council come together on difficult decisions, working together to find the best possible solution for our citizens. That has been very satisfying."

Expressing a characteristic humility, Pike says he's humbled and honored to be chosen among this group of leaders in the surrounding communities. His enthusiasm for his clients and for the city he leads mesh together in his outlook for Anna's immediate future.

"The City of Anna is a blank canvas for opportunity in one of the fastest growing counties in the country. Our city has unlimited potential as one of the last undeveloped raw land areas in Collin County," he said. "It is truly an exciting time to live in Anna."

The award was sponsored by the Texoma Media Marketing Group.