Obituaries
Ava Dianne Britnell Barlow
Nov 7, 2018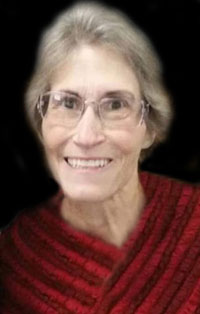 Leonard, Texas -- Funeral services for Ava Dianne Britnell Barlow, 64, of Leonard are scheduled for 1:00 p.m. Saturday, Nov. 10 at First Baptist Church of Leonard with Doug Welborn, Chad Leutwyler, and Denny Gorena officiating. Burial will follow at Leonard Cemetery with Dewey Watson officiating. Family visitation is scheduled for Friday, Nov. 9, from 6:00 p.m.-8:00 p.m. at Turrentine-Jackson-Morrow Funeral Home in Leonard.

Ava was born Oct. 1, 1954 in Marshall, the daughter of Charles Olan Britnell and Dorothy Frances Chambless Britnell. She graduated from Kirby High School in Woodville in 1973. In January 1974 she attended a southern gospel singing convention in Woodville and met Jimmy Barlow, and they married three months later on April 20, 1974. The couple first lived in Plano where Ava worked at Plano General Hospital until their first of four kids was born in 1979. At that time, she became a stay-at-home mom and homemaker extraordinaire. They welcomed their second and third kids in 1981 and 1984, moved to Leonard in 1985, and welcomed their last child in 1986.

In Leonard, Ava quickly became active in numerous church and civic organizations and activities – on top of playing taxi driver, chef and number one fan for her four kids in their various activities. The family joined First Baptist Church, and Ava began a faithful 32-year span of service to her Lord through teaching Bible classes, Vacation Bible School, music classes, GAs and Awana. Her gift was serving and she loved to honor her Lord and church by serving in whatever capacity was needed.

In the community, Ava got involved in the Leonard Chamber of Commerce where she spearheaded the annual Christmas Toy Drive that provided gifts to over 200 children in need, and was a member of the Leonard Picnic Committee for several years that planned the town's annual anniversary celebration. She received special recognition in 2013, and in 2014 was honored as the Leonard Chamber of Commerce Citizen of the Year. She was also an active member of the Adult FCA huddle.

As the kids got older, Ava worked outside of the home as a secretary, substitute teacher, office assistant and lastly as ad salesperson/staff writer for The Leonard Graphic newspaper where her go-getter attitude was a perfect fit.

Ava loved her hometown and the people in it, and one example of that love was in 2010-11 when she wholeheartedly dedicated her time and resources to raise over $40,000 for the family of a local student who needed a double lung transplant.

Ava and Jimmy stayed heavily involved in the southern gospel music conventions, but especially so in the recent "empty nest" years as both were more available to serve as officers for various conventions and singing schools. They would travel hundreds to thousands of miles to attend singing conventions many weekends. Both were published songwriters, and one of her songs will be performed at her funeral service.

Her hobbies included spending time with her pride-and-joy grandkids, gardening, collecting Coca Cola memorabilia, antiques, sewing, taking photos and traveling with her husband.

After a courageous 17-month battle with pancreatic cancer, Ava passed away peacefully at her home surrounded by her family on Monday, Nov. 5, 2018.

Survivors include her husband, Jimmy Barlow of Leonard; son and daughter-in-law, Andy and Mary Barlow of Rockport; daughters and sons-in-law, Betsy and Jason Blevins of Leonard, Elizabeth and Michael Kidd of Leonard and Lindy and Brian Walker of Woodville; grandchildren, Allison Blevins of Leonard, Aubrey Barlow of Rockport, Riley Walker of Woodville, Taylor Blevins of Leonard, Avery Barlow of Rockport, Hazel Walker of Woodville, and Elanna Kidd expected to arrive in January 2019; mother and step-father, Dorothy and Sherman Powell of Woodville; mother-in-law, Betty Pattillo of Leonard; siblings, Jan and Scott Kendall of Georgetown, Iris and Stanley Hensarling of Hillister, Rodney and Paula Britnell of Winnie, Lindsey and Marilyn Britnell of Warren, Frances and John Baker of Warren, and Philip Britnell of Woodville; and numerous aunts, uncles, nieces, nephews, cousins and step-siblings.
She was preceded in death by her father, Charles Olan Britnell, and first step-father, Ralph Harrell.

Tax-deductible memorial donations may be made to the Texas Southern Gospel School of Music. Make checks payable to TSGSM and mail to Pauline Thompson TSGSM Treasurer, 305 Trailwood Dr., Crockett, TX 75835. Those donors who provide a return address will receive a receipt for tax-deduction purposes.

Pallbearers are Nathan Parks, Bo Damesworth, Gayland Gilbert, Mark Buchanan, Danny Doyle and David Norman.

Turrentine-Jackson-Morrow Funeral Home of Leonard is in charge of arrangements. An online registry may be signed at www.tjmfuneral.com.