School News
El Centro College medical lab technology students are vital to patient care
Nov 18, 2018
Dallas – As a receptionist at a local hospital emergency room, Brenda Ehret knew the kind of career she wanted to pursue. Although she's not afraid of blood or bodily fluids, she prefers to look at them under a microscope.
"I like the laboratory aspect of science because you get to run tests and analyze blood and then get a deeper sense of the patient and what's going on," said Ehret, who is pursuing an associate degree in medical laboratory technology at El Centro College.
El Centro, part of Dallas County Community College District, is the only one among the seven colleges that offers an associate degree in this field.
"You count white blood cells and look for abnormalities. Everything you need to learn about a patient starts here," Ehret added.
Professionals in medical lab technology analyze body fluids to determine whether a patient has cancer, diabetes or other ailments.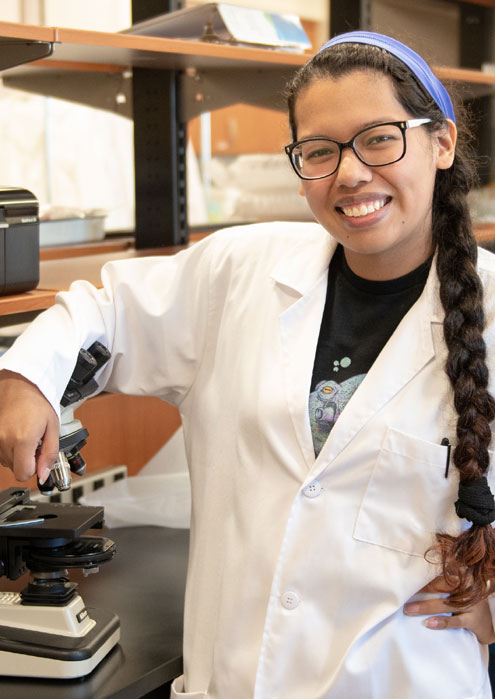 Brenda Ehret is a student in El Centro's Medical Laboratory Technology program.
Ehret hopes to graduate next year and pursue a full-time career as a medical laboratory technician. Using the lab at El Centro, she is surrounded by flasks plus chemical and deionized water as she prepares to become part of a healthcare team.
Her instructor and clinical coordinator, John Wentz, said the field of medical laboratory technology is broad, and students get a chance to team up with professionals before they graduate. That means each student must successfully complete clinical training at an area hospital.
Learning the steps
To prepare for their work, El Centro medical lab technology students use lab equipment to analyze body fluids.
Ehret admits that she's a little nervous, but she also is confident about developing her skills and working as a team member with other healthcare professionals.
"I'm sure they'll be patient with us because we're students," she said.
The course is challenging, and students must perform complex laboratory tests, Wentz said. They also must learn to cross-match blood, perform chemical analyses and determine the state of pathological diseases.
This job requires expertise in the use of lab equipment such as cell counters and microscopes, he said.
Professionals in this field are viewed as a vital part of any medical team. Their job – testing and analyzing blood and fluid samples – is important because the results determine treatment and aid in diagnoses, Wentz said.
"Everything we do is in service to the physicians so that they can make choices for therapy and diagnoses," he added.
More than half of the El Centro students who graduate from this program decide to pursue four-year degrees, said Wentz.
Solving a puzzle
Completing the medical laboratory technology program takes about 16 months, and students must pass a test to become certified. Students who successfully finish the program can find work at a hospital or a clinic, where most diagnostic testing is done, said Lisa Lock, program coordinator and faculty member at El Centro.
"The field of medical laboratory technology is very exciting," Lock said. "We are seeing much growth and opportunity. Our students are well prepared for their future and beyond. We have a fantastic group. They are focused, excited, intelligent, and they love our field."
In two years, students can move into an entry-level position in the healthcare field that offers them job security and room for growth.
Luwam Haileselassie also works at a Dallas-area hospital. She, too, enrolled in the program because she wanted a more challenging career in healthcare. Conducting chemical and analytical tests appealed to her.
"I've worked in healthcare for four years," said Haileselassie, a patient care technician. "I still want to help patients, but I feel that I can contribute more. I feel that if I'm successful in this class, it will be a good way to break into a new field."
Lock encourages students to view their work as if they're solving a big puzzle.
"We put the pieces together. We can shake those tubes, analyze results and understand the vivid detail of mastering the intricacy of cells and organisms microscopically," Lock said. "We take care of our patients behind the scenes."
According to the Bureau of Labor Statistics, medical laboratory technicians are paid $51,770 annually or $24.89 hourly. The job outlook in this field is good and is projected to grow 13 percent by 2026 – faster than average among all occupations.
Medical laboratory technology has been identified as a growing and important field, and demand is rising in some major markets because of technological advancements and an aging healthcare workforce, labor officials say.
El Centro College is the only accredited medical laboratory technology program in Dallas, Parker, Rockwall, Hunt and Denton counties.
For details about El Centro's medical laboratory technology program, contact Lisa Lock by phone at 214-860-2304 or by email at llock@dcccd.edu.