School News
Learning Differences Technology Resource Round Table Nov. 13
Nov 12, 2018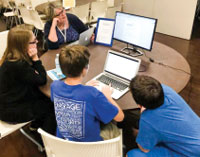 Dallas, Texas -- StandUP LD, a Dallas nonprofit support network for parents and educators seeking educational resources to support and inspire children with learning differences, is hosting a technology and resource round table event Nov. 13 for all – students, parents and classroom teachers – at the June Shelton School and Evaluation Center in Dallas.

StandUP LD's free round table event will consist of reading and writing tools using text to speech options, audiobooks, Microsoft and memory tools, and other useful resources for children who have expression disorders, dyslexia and dysgraphia.

During the event, parents and students will have the opportunity to rotate through tables representing the latest technology and advocacy resources for students with learning differences. The reading tools available will help children assist with decoding, fluency and comprehension using text to speech resources. Here individuals will learn how the toolbar can read aloud documents, web pages, files and more. Resources being highlighted are Learning Ally, Bookshare and Audible with WhisperSync.

Writing tools for students who possess dysgraphia and written expression difficulties will have options at the table event as well. Tools for writing at the tables will include facilitating the physical act of writing through speech to text as well as assist with spelling, punctuation, grammar and word usage.

"We are so excited for the technology round table event coming up," said StandUP LD Board President Heather McGehearty. "Students who possess dysgraphia, dyslexia or expression disorders will be allowed to try new technology advancements that can help facilitate them to be successful in their academic journey. The event is a hands-on learning experience for students, parents and anyone seeking help in this area."

StandUP LD's Technology Round table Event is Tuesday, Nov. 13, from 7-8:30 p.m. at the June Shelton School and Evaluation Center located at 15720 Hillcrest Road, Dallas, TX 75248. While this is a free event, registration is required. To register, click here.

Personal devices are recommended but not required for the event. StandUP LD hosts events throughout the year that empower and help every individual to build community, self-confidence and leadership. Their mission is to educate parents about the resources available to them.

For more information on StandUP LD, go to https://standupld.org.

About StandUP LD

One in five children in the United States has a learning or attention challenge. StandUP LD is a Texas-based nonprofit helping families affected by learning differences including dyslexia, ADHD, dyscalculia and many others. StandUP LD was co-founded by Heather and Eric McGehearty. Three of their four children are dyslexic. In 2016, they decided to start StandUP LD with the full purpose of supporting teachers, educating parents and inspiring children through events, networking and conferences. Learn more about StandUP LD at https://standupld.org, on Facebook: https://www.facebook.com/StandUpLD or Twitter:
https://twitter.com/standupld.