Front Page
Construction of Bois d'Arc Lake on schedule
Dec 6, 2018
Fannin County, Texas -- The rain has finally stopped, the Thanksgiving holiday is over and construction is picking back up at Bois d'Arc Lake. The rains slowed construction progress on the lake but will not have an impact on the project's overall schedule.
Ground was broken May 25, 2018 with anticipated water delivery in 2022. The lake will have a surface area of 16,641 acres.
The project will pipe water from the new lake 35 miles to a new water treatment plant to be constructed in Leonard.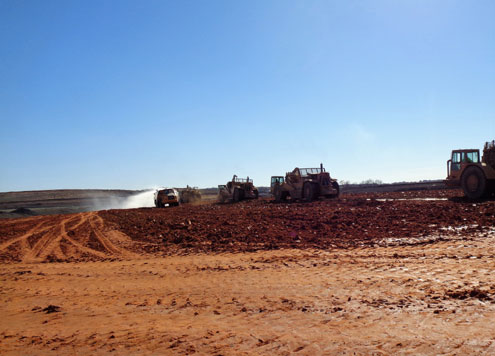 Spreading soil at the dam embankment – Looking east: Soil is spread at the dam site for the embankment and water is added to prepare it for compaction. photo courtesy of NTMWD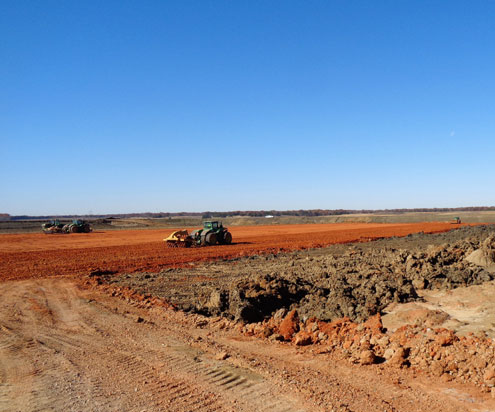 Compacting soil at the dam embankment – Looking west: A tractor compacts the soil on the northeast portion of the Bois d'Arc Lake dam. photo courtesy of NTMWD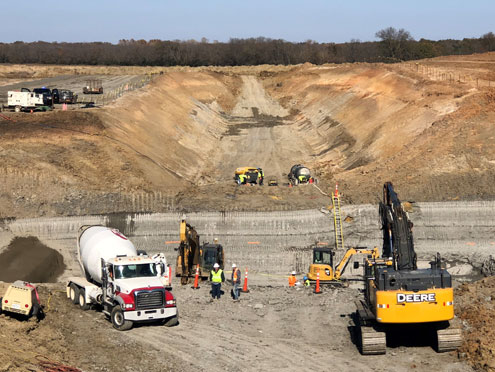 Excavating the intake tower: Construction crews have finished excavating the area needed for the raw water intake tower's foundation. When built, this 110-foot-tall tower will be inside the lake and will send water through two 78-inch pipes beneath the dam to the raw water pump station. Note: The grayish hole in the lower half of the photo is where the raw water intake tower will be built. The area directly behind it is where the dam will be, and the trench is where the two 78-inch pipes will lie and transport water from the lake to the raw water pump station. photo courtesy of NTMWD