Local News
Construction of 90-inch pipeline from Bois d'Arc Lake to Leonard to begin in March
Dec 27, 2018
Fannin County, Texas -- As the $1.6 billion Bois d'Arc Lake project begins to take shape, one element of this colossal undertaking is a 35-mile pipeline that will carry raw water from the water pump station at Bois d'Arc Lake to a water treatment plant under construction in Leonard.
A project of this size requires a pipeline of similar dimensions. This 90-inch or 7 ˝ feet tall pipe can transport as much as 236 million gallons per day (MGD) of water during peak conditions, however the permit limits North Texas Municipal Water District to an annual daily average of up to 108 MGD.
The design, right-of-way acquisition and construction of this 7 ˝ feet tall pipeline is estimated to cost approximately $190 million.
The right-of-way process along the 35-mile route is continuing, with construction of the raw water pipeline scheduled to begin in March of 2019.
The 90-inch pipeline has a projected completion date of late summer 2021.
Current plans call for the water treatment plant in Leonard to be commissioned in March 2022.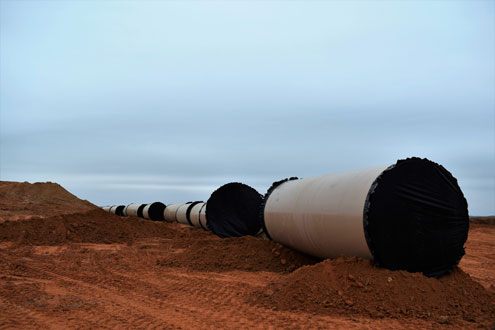 This 90-inch or 7 ˝ feet tall pipe is part of the 35 miles of pipeline that will send water from Bois d'Arc Lake to the water treatment plant under construction in Leonard. photo courtesy NTMWD