Lifestyles
Celebrate Sam Rayburn's 137th birthday
Jan 5, 2019
Fannin County, Texas -- Join us at the Sam Rayburn House State Historic Site on Saturday, January 5 from 10:00 a.m. to 3:00 p.m. as we say, "Happy Birthday" to Sam Rayburn. We'll celebrate "Mr. Sam's" 137th with guided house tours, some of "Mr. Sam's" favorite foods—chili and coconut cake, and more.
During the event, be sure to stop by the visitor center to see a display of military ephemera from "The Great War" on loan courtesy of the Fannin County Museum of History. And of course, don't forget to check out Sam Rayburn's Cadillac, Dodge truck, Chevy sedan and his sister Lucinda's turquoise blue 1955 Plymouth.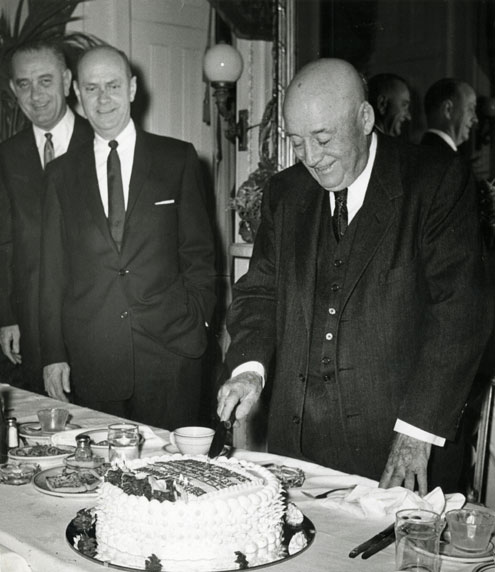 This photograph shows Sam Rayburn cutting into his birthday cake in 1960. Vice President-Elect Lyndon Johnson and Texas Congressman Walter Rogers are in the background. photo courtesy of the Sam Rayburn Museum, Dolph Briscoe Center for American History, the University of Texas at Austin
The newest exhibit, located in the Rayburn's restored 1950s-era barn, "Breaking Ground: Cattle, Cotton and Cars on the Rayburn Farm" with its various hands-on components and historic photos of the Rayburn farm and ranch is available for self-guided touring.
Admission is free during Sam Rayburn Day and everyone is welcome.
The Sam Rayburn House State Historic Site tells the real story of Sam Rayburn, one of the most powerful and influential politicians of the 20th century, in his authentic 1916 home. Preserved as a period time capsule, the two-story home contains all original Rayburn furnishings. The Sam Rayburn House State Historic Site is one of 22 historic attractions operated by the Texas Historical Commission. For more information visit www.visitsamrayburnhouse.com.