Local News
New Year's Day family fair to benefit homeless children
Dec 30, 2018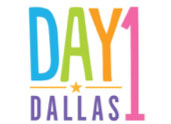 Dallas, Texas -- Returning for its fourth year, Day 1 Dallas is a FREE family fair designed for children and families to celebrate New Year's Day together at Fair Park. The event features a spectacular children's music-themed firework show, interactive children's activities, crafts and games. Day 1 Dallas 2019 is expected to attract up to 15,000 revelers. The event will be held from 3:00 p.m.-7:00 p.m. in Centennial Hall – Fair Park with fireworks scheduled at 7:15 p.m. surrounding the esplanade fountains.

Attendance and all activities are FREE for all visitors. Pre-registration tickets help skip on-site lines and enters attendees into multiple raffle prize drawings. Parking is $10 at gates 5 and 6, or families can take DART – official Day 1 Dallas transportation sponsor – right to the Fair Park main gate. Event information is listed at http://www.day1dallas.com/ and on Facebook at facebook.com/vogelalcove.

All activities will take place inside and around Centennial Hall, so families can come out and play whatever the weather brings!

Day 1 Dallas will offer activities that kids of all ages will love, including:
360-degree, immersive firework show set to The Avengers soundtrack

Inflatable bounce houses and a rock-climbing wall

Performances by Magician Grant Price, RockTeen Steppers, SpokenFor and the Zumba League

Cardboard construction area

Arts and crafts and Face Painting stations

Reptiles by Wildlife on the Go

Smash-a-car and Paint-a-car stations

Perot Museum TECH Truck and Touch-a-truck construction equipment
Day 1 Dallas benefits Vogel Alcove, a nonprofit agency devoted to helping children overcome the traumatic effects of homelessness—a critical effort given that more than 3,000 Dallas children go to sleep at night without a home of their own.
Thank you to all of our sponsors including major sponsors WFAA, Channel 8, Copart, Dallas Tourism Public Improvement District, Holland & Knight, Kimberly-Clark Corporation, Oncor, driversselect an Echo Park company, Ally financial, Resource 1 Credit Union, Rogers-O'Brien Construction, Omni Hotel Dallas, Pollo Campero, Cricket Wireless, Frost Bank, Hello Fresh, Reliant, Resort Vacations Inc.,Texas Brand Bank and Ultimate Escape Game Dallas.
About Vogel Alcove
Vogel Alcove provides therapeutic early childhood, trauma-informed care, school-age programs and family support services for homeless children ages six weeks to 12 years old and their families. Since 1987, the agency has served more than 16,000 Dallas-area homeless children with a focus on the two-generational approach to solving homelessness and Breaking the Cycle of Poverty.
Fast Facts Day 1 Dallas 2018 takes place on Jan 1 from 3:00 p.m. - 7:00 p.m. at Fair Park. Admission is free. Tickets include all activities; the only other cost is for parking and food.