Obituaries
Dale Allen Burrows
Dec 29, 2018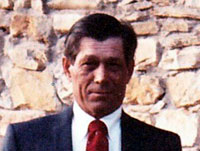 Leonard, Texas -- Dale Allen Burrows let go of the bull rope to end his long ride on December 27, 2018 in McKinney, Texas.

Dale was born in Dysart, Iowa on July 30, 1942 to Jeannette and Clarence Burrows. He grew up on the family farm north of New Hartford Iowa where he became known as an exceptional horseman. Dale was resourceful, disciplined and considered the ability and willingness to work hard a virtue. Dale was a heavy equipment operator and worked on the Interstate 80 bridges in Eastern Iowa, while training horses in his spare time.

He was known as an uncommon horseman with a special touch with young horses. By the early '80s he was playing polo and training horses full time. Polo took him from Canada to Mexico; from Santa Barbara to Toronto and introduced him to a broad cross-section of our society. He spent most of his life in the company of his horses and dogs with whom he shared a special communication and a deep respect. He made his home on "Little Bit Ranch" in Leonard, Texas with his partner and wife, Mary Beth Watson.

No services are planned at this time.

Donations to honor his memory may be made to the O'Donnell Brain Institute at UT Southwestern.
https://engage.utsouthwestern.edu/donate-now
Please designate donation to the O'Donnell Brain Institute.

Special thanks to the caregivers of Avalon Memory Care for loving and compassionate care and for making Dale feel at home. You became family. Thanks to the team from Harris Hospice for exemplifying what hospice care should be.