Local News
Home Hospice accepting donations of Christmas decorations
Jan 2, 2019
Sherman, Texas December 31, 2018 – Don't pack away those old decorations!! If you are tired of putting decorations back in the attic, you're ready for a new Christmas tree or you hit all the sales and need room for your new decorations, then Home Hospice is ready to help you by accepting your donations for our 2019 Christmas Rummage Sale! Items could include Christmas Tree items, garland, wreaths, tinsel, lights, trees, centerpieces, wrapping paper, gift bags, trays, outdoor decorations, ribbons, bows, collectibles and everything else Christmas!
Please call ahead and set up a time to bring your Christmas decorations from January 3 to January 25 to our office located on 505 W. Center Street in Sherman. Our office is open 8:00 a.m. to 5:00 p.m. Monday thru Friday.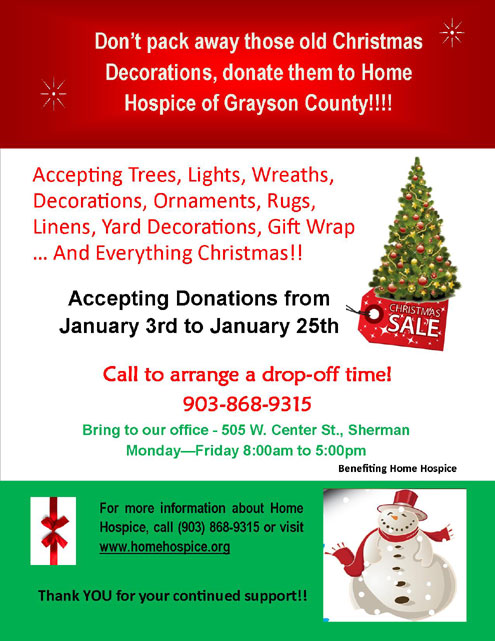 For more information about the Christmas Rummage Sale and donations, please contact Barb Samuelson at (903) 868-9315.
Home Hospice of Grayson, Cooke and Fannin Counties is a 501(c)(3) local community-based non-profit organization serving our communities for over 36 years. As the oldest and most trusted local hospice organization, our mission is to provide the best care and support enhancing the Quality of Life of our patients and their families.
To learn about other community outreach programs offered by Home Hospice, please visit www.homehospice.org or visit our Facebook page at www.facebook.com/homehospiceofgrayson.