Local News
Retirement reception for Derrell Hall Jan. 3
Jan 3, 2019
Fannin County, Texas -- After more than 34 years of service to Fannin County, Derrell Hall has earned the distinction of celebrating his retirement in a building named in his honor.
A retirement party honoring Mr. Hall will be held Thursday, January 3, 2019 in the Derrell Hall Education Center.
Hall's service to the citizens of Fannin County includes time as Fannin County Commissioner (1985-1992), Chief Juvenile Probation Officer (1993-1996), Fannin County Judge (1997-2007) and currently Adult Probation Officer.
The retirement party is slated for 2:00 p.m. until 4:00 p.m. January 3.
Derrell Hall Education Center is located at 2505 North Center Street in Bonham, Texas.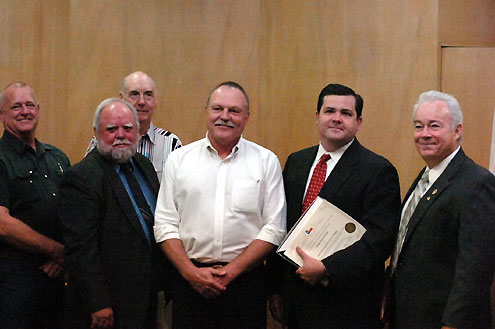 (L-R) Stan Barker, Butch Henderson, Pat Hilliard, Derrell Hall, Larry Phillips and Ray Grisham